Rumors hint 2013 Porsche Cayman to debut at LA Auto Show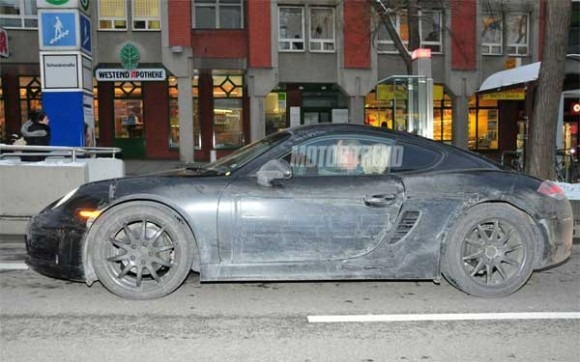 Some spy photos have surfaced of a dull black Porsche Cayman setting in traffic that are thought to be the first shots the 2013 Porsche Cayman. The car is cleverly disguised under a thick coating of dirt. Porsche has offered no official comment on anything to do with the 2013 Cayman so far.
New rumors are pointing to an official debut for the 2013 Porsche Cayman at the Los Angeles Auto Show kicking off in late November. Details are thin on the 2013 Cayman at this point, but it is expected to look like a hardtop version of the Porsche Boxster convertible. The Cayman is expected to get new bodywork for 13 and to get the new Boxster's taillight integrated spoiler that pops up when needed.
The Cayman is expected to get the same 2.7-liter F-6 engine used in the Boxster expected to produce 275 hp. The 2013 Cayman S is expected to keep the current 3.4-liter F-6 with a bump in output to 330 hp. Expected transmission offerings for the 2013 Cayman are expected to include a six speed manual and seven speed dual clutch PDK shifted with paddles. The car is expected to be longer and wider than the 2012 model.
[via Motor Trend]