Rumor: Pentax K20D And K200D Coming Soon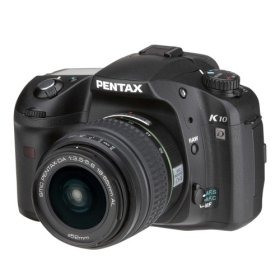 In fact they are rumored to be announced on January 24th, 2008. There aren't any pictures of either camera yet, but below is a picture of the K10D, the camera they would presumably be replacing.
The rumors claim some pretty hardcore specs, even for a DSLR. Those include a 14MP CMOS sensor, a 14-bit RAW A/D processor, 3" LCD, better In-Body shake reduction, PC Syncing, and that's just for the K20D. the K200D would be replacing the K100D.
The specs for the K200D are rumored to include a 10MP sensor from Sony, a PRIME 12-bit image processor, 3 FPS, a larger LCD than its K100D predecessor, and 11 AF points. Right now they are just rumors, although the timing would put the announcement just before PMA, which adds some weight to the rumors.
Pentax K20D and K200D [via photographybay]