Rumor pegs Sony Ericsson Xperia X7 and X7 Mini inbound in Q1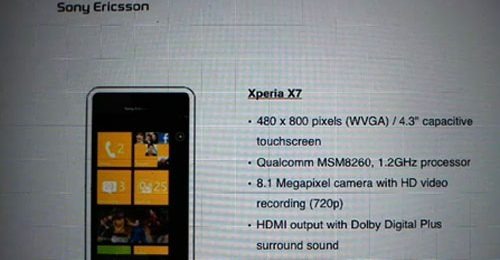 We are taking this rumor with as much salt as we can pinch in our geeky fingers. A rumor is going around that a couple new smartphones are coming soon that have some nice sounding features. The new phones are according to the unconfirmed rumor supposed to be the Sony Ericsson Xperia X7 and the X7 Mini smartphones.
According to said rumor, the new phones are coming in time for a Q1 2011 launch. The devices are rumored to run Windows Phone 7 and the big X7 is pegged for a 4.3-inch WVGA resolution screen and a 1.2GHz Qualcomm processor. The big X7 is also supposed to have an 8MP camera good for still shots and 720p HD video with HDMI output.
The smaller X7 Mini is rumored to have a 1GHz CPU, 3.5-inch WVGA display, a 10.1MP camera, and 720p video recording capability. It also has a 3x optical zoom, which is something that we don't see on camera phones typically. These things sound interesting and we will have to wait on confirmation from Sony Ericsson before we count this as legit. Did I mention these are both unconfirmed rumors?