Rumor of New Segway i2 and x2 Coming Tomorrow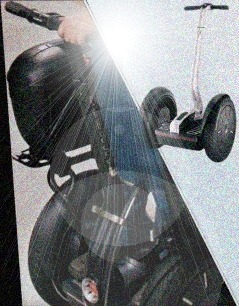 Engadget is reporting that multiple sources are claiming that Segway is expected to release a brand new version of the self-stabilizing human transporter tomorrow. This is one hell of rumor being that we just informed you of FCC's blessing of the Segway i2 and x2 a few days back. According to one tipster, Segway reps told him that the new models would be "70% new and very different from the old models." The image below depicts the rumored i2; sent in by another tipster.
One of our very own reader test ride the new Segway and has this to say about it:
[daveklements] I rode the new segway today and it is so small and compact you could ride it right up to the class room and park it in front. It even had a remote alarm that detaches and snaps onto a bracelet you can wear like a watch, so if someone touches it, it alert you. It was very trick.
Relate: Segway i2 and x2 final announcement and watch the video!