Rumor - iPod Touch on the way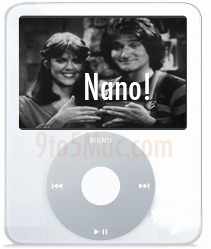 Apparently that image we showed you yesterday was forcibly taken down by Apple's legal department over on 9to5Mac. I guess that pretty much tells us that we'll be seeing some very similar-looking iPods in the near future. On top of that, we've got some of the rumored details on the new iPod Touch.
That's right, Apple just stole someone else's name. HTC Touch anyone? The new iPod Touch is going to be the same form factor as the iPhone, only with a black outer rim, not silver. No speaker or microphone for talking on the phone (you won't need it anyway). It'll also be just a little thicker.
We can look forward iPhone-like features such as the Embedded OSX, 480x320 screen, Coverflow-enabled iPod app and a single button home navigation. We'll bring you more details as they're confirmed.
iPod Touch – the New Flagship iPod [via 9to5mac]