Rumor: 3G iPhone to feature GPS, Video Conferencing and Mobile TV - Comes in three different color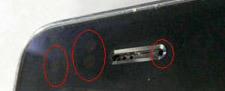 Here we go again, another rumor – I know you might be tired of hearing these rumors, but news is news. There are reports saying that the new revision of iPhone will not only put faster network on your hand, but also includes GPS, video conferencing, and mobile TV functions.
Another rumor is that the 3G iPhone will come in three-color choices, black, silver, and white. The report also said the 16GB model will be available in silver only while the 32GB version will be available in white, black, and silver.
I'm sure more rumors will be bombarding the blogosphere as the event to WWDC on June 9th comes closer. I guess part of the fun is waiting to see what Apple will bring to compete with HTC and LG's recent handset releases.
[via iphonebuzz]