Rugged Toys For Clumsy Boys (And Girls)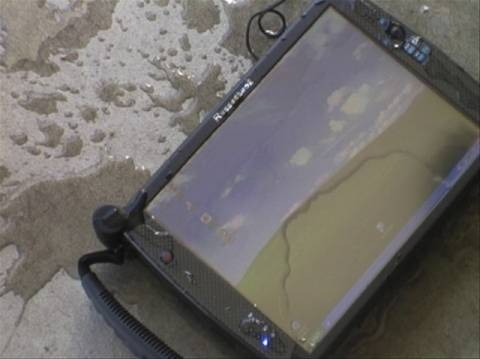 Something has obviously snapped in the mind of Rob Bushway.  Too much exposure to Tablet PCs and the vagaries of Microsoft's marketing have pushed him over the edge; how else would you describe the horrendous abuse of a poor, innocent Slate that he's filmed and put online?
Saying that, the Tablet seems to enjoy it.  Maybe that's because it's from Samwell's RuggedBook range, designed to cope with up to 26 consecutive 3 foot drops on to plywood over concrete (though you'd have to be pretty damn clumsy, or maybe work in a buttered-fingers factory).  Rob decided to go the extra mile and replace the plywood with a thin rug.  Would you have been so brave if it'd been your own $3,500 computer, Rob?
Specs for the SR668 after the cut.
Specifications (link to brochure) 
With IP54 rugged feature (shock resistance, vibration resistance, water proof, spill resistance, dust and dirt resistance, hot and damp resistance, magnesium enclosure) developed specially for the harsh environmental conditions and physical stress.
Feature
* Compact size : 284 x 209 x 63 mm with 4 bumpers
* 10.4" XGA ( 1024x768) TFT ; outdoor sunlight readable supports (optional)
* Resistive or Dual Mode touch panel
* ULV Intel Pentium M Processor (1.1 GHz)
* RAM: 768 ~ 1280MB DDRII 400
* HDD: 2.5" 40/80GB shock mounted
* OS: Windows XP Tablet PC edition
* Build-in WiFi 802.11 a/b/g, Bluetooth Class II
* Optional: GPRS/CDMA/GPS
* Meets IP54 standard and MIL-STD-810F
* Wide temperature range operability: -20 ~ 60 C
SR668 RuggedBook Tablet PC InkShow [GottaBeMobile]