RTX 2060 revealed for starting price of $349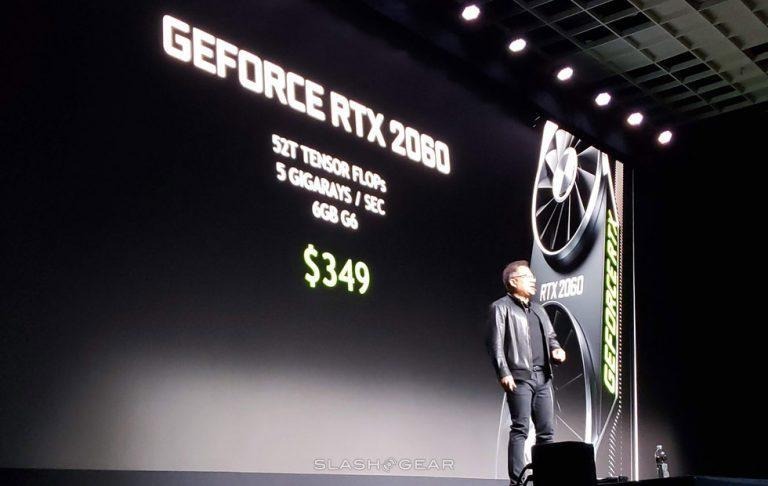 The NVIDIA GeForce RTX 2060 was revealed at CES 2019 this evening, and with it, a whole bunch of Turing architecture and ray tracing and all sorts of other good stuff too. This GPU has 52T Tensor FLOPs, 5 gigarays per second, and 6GB G6. And while generally I'd wait until the end of the article to include the price, here it's too extremely important – RTX 2060 costs $349 – imagine that!
This new GPU – and the rest of the GPUs in the mix – will be released in game bundles immediately. Right out the gate. Two bundles were revealed this evening, one with Anthem, the other with Battlefield V. One bundle has RTX 2060 or 2070, and the user gets Anthem OR Battlefield V. If the user buys RTX 2080 or 2080 TI, they'll get Anthem AND Battlefield V. Choose Anthem – oh my god it's going to be amazing.
This will all be coming on January 15th with a whole bunch of manufacturing partners and such. Lenovo, Alienware, OMEN, SCAN, Samsung, ZOTAC, ASUS, etcetera, etcetera, and so forth. Not only will the cards be available for sale for PC builds of your own, systems will be available for sale with RTX 2060 etc right away, too. You'll see a few of those on SlashGear sooner than later – stay tuned for those!
ALSO NOTE: Along with the push for this NVIDIA GeForce RTX 2060 comes a whole lot of talk about AI. RTX, said NVIDIA, is not just about ray tracing, it's about a whole lot of artificial intelligence, too. Because of AI, said NVIDIA, your computer renders the best pixel, not just a LOT of pixels. With NVIDIA's DLSS algorithm, the GPU is able to "infer a much more beautiful, higher resolution."
Stick around as we learn more about this next generation in GPU power, RTX style. More rays than your brain can handle.