Rovio hints at potential level editor coming to Angry Birds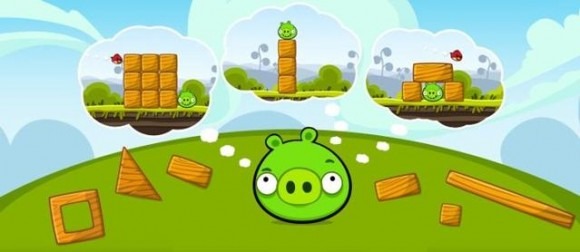 Rovio recently gave us a big hint on the Angry Birds Facebook page that a level editor could be coming soon to the game. The Facebook post showed an image of a green pig with building blocks surrounding it, and the pig having thought bubbles illustrating how the blocks might be put together. The new rumor comes just a few weeks after reports surfaced of a new version of Angry Birds that would let users change sides and play as the green pigs.
The caption on the suggestive image read: "Decisions, decisions, decisions." And since Rovio's most recently added game called Amazing Alex has a level editor built into it, it might make perfect sense that working it into Angry Birds could be a serious possibility as well. Rovio also released an update to its Angry Birds Space version today with some changes to characters, and just last week we saw that Samsung confirmed the Angry Birds TV app plans. So the gaming company is definitely hard at work trying to keep the game as fresh and interesting as possible.
Rovio has made no comment about any future level editor, but being able to arrange levels and then knock them down again would likely increase engagement for the already ridiculously popular and successful game. It's an exciting thought, but until Rovio officially announces anything, we can only hope that we're right about the image posted on Facebook.
[via TechCrunch]