Rovio brings Angry Birds to Samsung's Smart TVs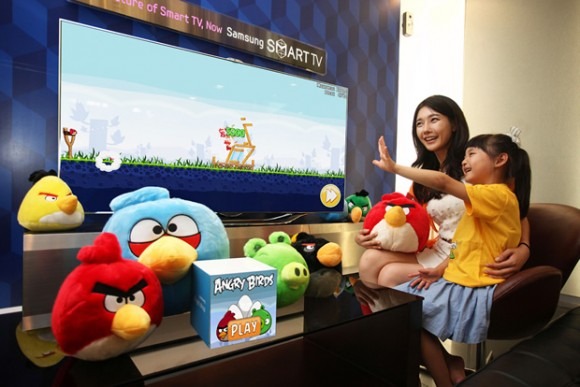 Samsung is hoping that Smart TVs will take off, Rovio is on a quest for total screen domination... why not pair the two together? Rovio and Samsung have announced a partnership that will see Angry Birds making the jump to the ES7000, ES8000, and ES9000 Smart TVs. The redesigned game will take advantage of the motion sensors found in the televisions. Angry Birds also leverages the new Smart TV SDK, allowing the app to run natively on the television without the need for an additional set-top box or console.
The South Korean company says it has been working with Rovio on the game ever since it first unveiled its Smart TV platform back at CES. Rovio has tweaked the game to play nice with the TVs motion controls, and will be releasing it onto Samsung's TV app store for all to enjoy. Rovio is also working with Samsung on a series of animated shorts that will also be available on the TV via on-demand.
At this rate, Rovio will have the popular franchise on just about every screen know to man. Yesterday, the company teased the Angry Birds Trilogy, a compilation of Angry Birds, Angry Birds Rio, and Angry Birds Seasons that would be released on the Xbox 360, PlayStation 3, and Nintendo 3DS. Rovio will revamp the game with high-definition graphics and animated backgrounds, along with new cinematics and additional content.
[via CNET]