Roland R-26 Portable Recorder officially shipped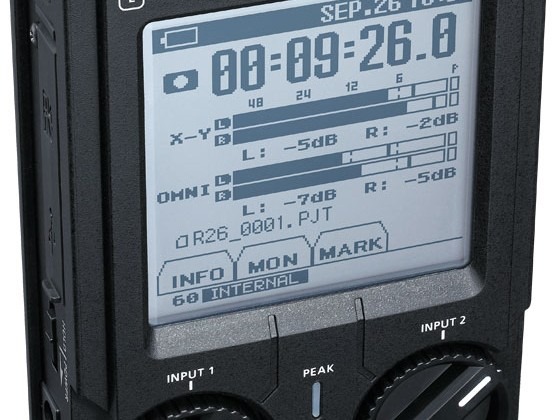 This week we're jumping out of our seats at the news that legendary music machine makers Roland have shipped their newest sound recorder: the Roland R-26 with six-channel audio recording and two types of onboard stereo mics. This is no low-end recorder, ladies and gentlemen, and what it lacks in aesthetic appeal for all you thin and cute loving electronics owners out there it more than makes up for in sound recording power. This device records directly to your SD/SDHC card and has XLR/TRS combo inputs for ultimate ease in integration with the equipment you've already got.
This device has USB audio interface functionality, is able to easily record solo or ensemble music experiences, and is more than capable of helping you make the most of your audio/video production, no matter the level of professional you might be. You'll be able to power this monster with four AA batteries, an AC adaptor, or an external battery – enough options for you? The two stereo mics then, omnidirection and XY as they are, offer you mic options that'll fit whatever your occasion may be.
You've also got phantom power working with two XLR/TRS combo inputs so you can run some external microphones with ease. Line-level devices of all sorts can also plug in here, as can stereo mini-jacks for plug-on powered mics. Audio captured by this device's onboard microphones can either be captured as a single mixed track or as three separate stereo files, that being six channels in total, able to be mixed together later at your leisure.
The interface you see on this device includes both physical buttons and dials as well as a neat little touch-screen interface with a very basic set of on-display controls. Transfer your WAV/BWF and MP3 format files back to your computer over USB 2.0 and fear not, as this device does have functionality with both Windows and Mac-based machines. There's a rear-panel mount included that'll allow you to connect this device to your standard camera tripod, and an extensive line of accessories is in the works for further integration with devices galore.
This recording device is available now for MSRP $599.00 – grab one at your favorite music machine emporium!