Roku just entered the wireless speaker space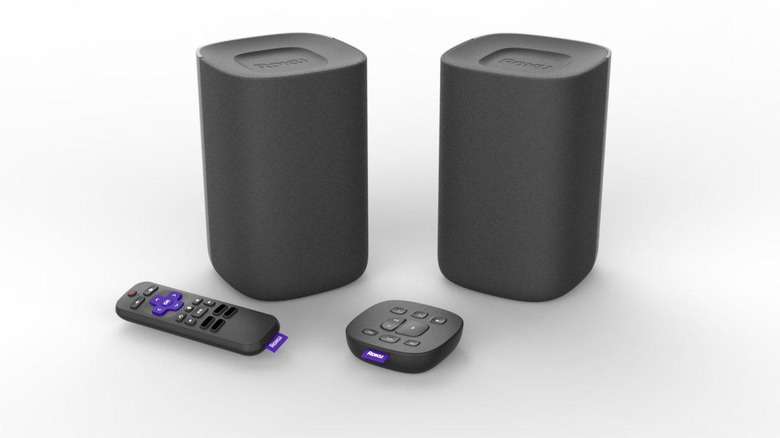 Back at CES 2018, Roku announced a new wireless audio platform called Roku Connect. At the time, Roku said it would license this technology to its manufacturing partners like TCL and Element, which make Roku TVs. The company also has some first party plans for Roku Connect, announcing a pair of wireless speakers compatible with Roku TVs today.
While many of us might expect Roku to launch a sound bar, these are actually a pair of stereo satellite speakers. As they pair wirelessly through Roky Connect, they're only compatible with Roku TVs. "Because Roku controls the software in both the speakers and TV, Roku is uniquely able to provide seamless wireless setup and connectivity, optimize sound for the picture and ensure audio video sync," today's announcement reads.
The idea is to use Roku Connect to make the sometimes arduous task of setting up a home theater easier. Once the speakers have been paired to your TV, you can use them to stream audio from a multitude of source, whether that's a set-top box from your cable company or any of Roku's streaming channels. You can also pair your phone to stream music to the speakers through Bluetooth.
Roku says that its wireless speakers use "Automatic Volume Leveling," which lowers the audio during scenes that are particularly loud and boosts it during scenes that are too quiet. "Dialog Enhancement," on the other hand, makes speech easier to hear, which should come in handy when watching something like The Lord of the Rings as everyone in those movies seems to whisper everything they say.
A bundle that offers two wireless speakers, a Roku TV voice remote, and a Roku Touch tabletop remote – which supports voice commands and comes with programmable buttons – is available to pre-order from today. Those who order between today and July 23 will be able to snag a bundle for $149.99, while those who order between July 24 and October 15 will pay $179.99. Moving forward from October 16, the wireless speaker bundle will run $199.99, so it's definitely a good idea to order now if you already know you want these speakers. You can do so today at Roku's website.