Rogue One teaser trailer brings together new faces and old favorites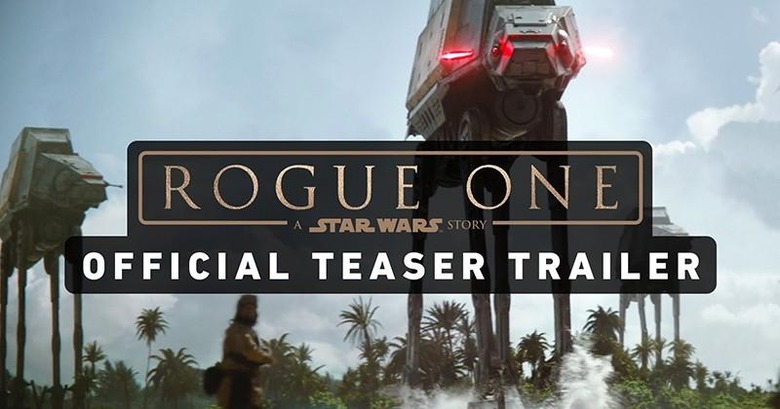 This is a great week for Star Wars lovers, such as myself. Just two days ago The Force Awakens was released on Blu-rey and DVD. And today, we're finally getting our first look this year's new Star Wars movie, Rogue One.
We already knew that this particular movie would be set a little before A New Hope, and would focus on the rise of the Rebellion, and more importantly, their theft of the Death Star plans. Now we can finally start piecing together the events, and the characters involved in the plot. But the trailer brings up more questions than it answers. Take a look.
We always knew that Mon Mothma was instrumental in the formation and rise of the Rebellion, so the fact that she shows up in the trailer is a welcome sight. What's interesting is that the actress is the same one who appeared in Revenge of the Sith, albeit only in the deleted scenes. She's spot-on for the part, so it's no wonder that they decided to tap her for this film.
As a longtime fan of the series, I'm very excited to see a lot of familiar sights from the original trilogy. The same Stormtroopers, Star Destroyers, and the same Massassi Base on Yavin IV. At the same time, I'm glad to see a cast of characters that haven't been explored before, either in the movies, or the outdated Expanded Universe.
There are a host of new characters that we'll likely learn more about as we get closer to the movie's release. There appears to be a new Grand Admiral in town, who seems to be leading the hunt on the Rebels. Also, if you go back and listen carefully at 1:28, you can hear what sounds like a faint exhale from Vader, even though he doesn't make any appearances in the trailer.
Rogue One: A Star Wars Story is due out on December 16, 2016.