Rockstar and Hyundai team to turn 2016 Tucson into SEMA show piece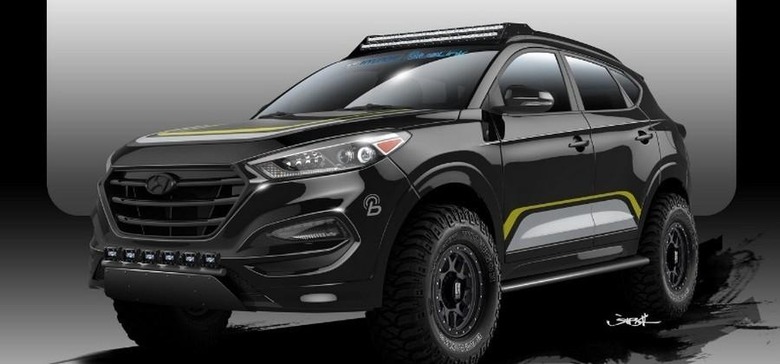 In the lead up to the start of SEMA 2015 lots of automakers are teasing their show cars ahead of the official unveil. Previously Hyundai teased the Tucson dubbed the Brute Ute thanks to 700hp on tap. This week Hyundai is teasing a new SEMA show car built in cooperating with Rockstar Performance Garage that is aimed at off-road use.
The car started as a stock 2016 Tucson before getting a bumper to bumper overhaul to trick it out for off-roading including a six inch lift kit for ground clearance. The Tucson is fitted with 32-inch MTZ P3 tires from Mickey Thompson. The shocks are custom and fully adjustable from King Shocks.
The turbo piping was upgraded for more power along with a high-flow exhaust and new intake. A Mishimoto intercooler was added for more power and performance. All the power goes to all four wheels via a 6-speed DCT transmission.
Hyundai is mum on just how much power the modified engine put out, but it's likely a mild increase with no note of updated internals. The truck is also fitted with LED lighting on the outside to shed more light on the off-road situation. The car will debut at the Hyundai press conference on November 3.
SOURCE: Hyundai