Rocketbook digitizes notes, then erases them in the microwave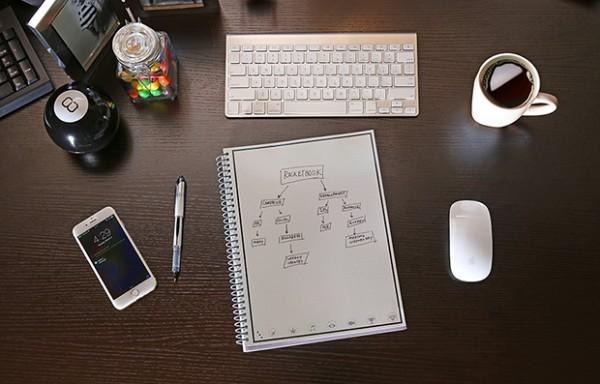 Try as we might, some of us cannot substitute writing on paper with writing on a display, no matter how sensitive the device and precise the stylus. Still, digital copies are the best way to store notes, and notebooks that digitize what one writes have been the long-running compromise, giving the best of both worlds. Rocketbook is one example of this, but with a twist: when writing with a specific pen, one can microwave the notebook for 30 seconds to erase the papers, making the same paper notebook reusable.
Such is the claim being made by Rocketbook's creators, which are seeking funding for the device on Indiegogo. Rocketbook features icons along the bottom of the page, which are assigned to one of a few supported cloud applications (Google Docs and Evernote being among them). When a page has been filled, the user fills in the icon for the service to which they want to the page uploaded.
The notebook itself features 8.5 x 11-inch dot-grid pattern acid free paper (50 sheets), and it is microwave safe with a polypropylene binding. In order for the microwave-erasure to work, the user must write with Pilot's FriXion Pens — if you use an ordinary pen, the markings will be permanent.
The technology behind it, as you might have guessed, comes in the form of a mobile app, which is used to image the pages and then upload the content to the pre-set cloud location — it's basically a scanning app that promises a high degree of accuracy. The folks behind the notebook have exceeded their $20,000 goal, currently sitting at about $160,000 USD. A pledge of $25 will get backers a Rocketbook and a FriXion pen. Shipping is set for July.
SOURCE: Indiegogo