Rocket League's new mode, Dropshot, arrives next week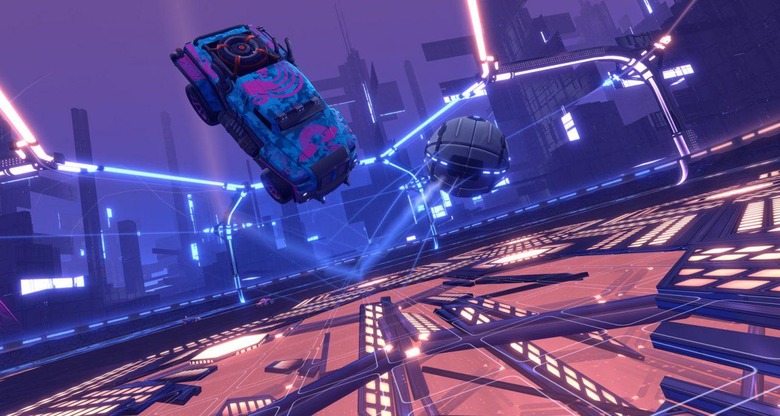 Rocket League fans have something new to look forward to today, as the game will be getting yet another new game mode next week. Dubbed Dropshot, this mode seems a little more intense than the hockey and basketball modes that came before it. That's because players will have to damage the arena before they can score their goals.
At the start of a match on Dropshot's "Core 707" arena, there won't be any goals present on the playing field. Instead, you'll have to create openings in the floor by landing shots on the arena's hexagonal tiles. One hit with the ball is enough to activate a hexagon – hit that hexagon again and the tile will be destroyed, creating a goal in the floor of the arena.
You won't be limited to breaking tiles one at a time, though. As the ball remains airborne, it gathers more power. Its power can increase three stages in all – in the first stage, only one tile will activate when the ball hits the ground. In the second stage, the ball can activate as many as 7 tiles, while the third has the potential to activate as many as 19.
In short, it sounds like Dropshot is going to be a hectic mode that might just change the game more than any mode that's come before it. You can get a feel for Dropshot in the brief teaser below, which lasts just long enough to ramp up the excitement.
Dropshot will be available on March 22, and when it arrives, it'll have a have a whole host of additional features in tow. These new feature include new achievements and trophies, a new Turbo Crate to unlock, and new painted bodies and rocket trails to earn. As always, Dropshot will be free to folks who already own Rocket League, which is definitely a great thing to hear.
SOURCE: Psyonix