Rock Band goes on tour
If you're as excited about Rock Band as I am, you want to get your hands on it as soon as possible, right? Thanks to the guys at Harmonix, you're going to have that chance starting this Sunday when they hit the road and go on tour.
Rock Band will be making 24 different stops on their tour, starting on September 9 when they'll be in Las Vegas for the MTV Video Music Awards. At each stop you'll have the chance to not only play Rock Band, but you and your band will have their performance taped. The videos will be reviewed by MTV casting directors.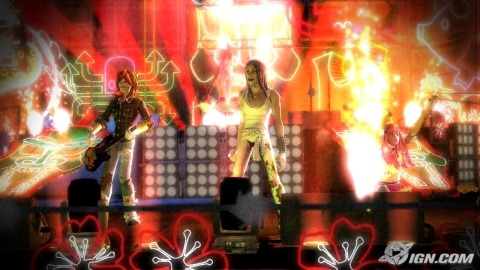 If your band is chosen, you'll be flown out to New York City where  you'll hang out with some real rockers for rock star training. The finalists then get to rock out on MTV's TRL with the winner opening up for a mega rock band at Rock Band's launch concert. The full list of stops is below. Who's going?
Las Vegas, NV September 9 – 16, 2007

Milwaukee, WI September 13 – 16, 2007

Sacramento, CA September 20 – 23, 2007

Columbus, OH September 20 – 23, 2007

Seattle, WA September 27 – 30, 2007

Chicago, IL September 27 – 30, 2007

Portland, OR October 4 – 7, 2007

Pittsburgh, PA October 4 – 7, 2007

Oakland, CA October 11 – 14, 2007

Cleveland, OH October 11 – 14, 2007

San Francisco, CA October 17 – 21, 2007

Philadelphia, PA October 18 – 21, 2007

San Diego, CA October 25 – 28, 2007

Baltimore, MD October 25 – 28, 2007

Los Angeles, CA October 31 – November 18, 2007

New York, NY November 1 – 4, 2007

Boston, MA November 8 – 11, 2007

New Jersey November 15 – 18, 2007

Phoenix, AZ November 27 – 30, 2007

Atlanta, GA November 27 – December 2, 2007

Austin, TX December 6 – 9, 2007

New Orleans, LA December 6 – 9, 2007

Dallas, TX December 13 – 16, 2007

Orlando, FL December 13 – 16, 2007