Rock Band for iOS to be pulled from App Store on July 31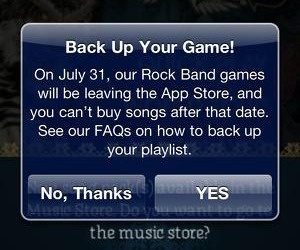 EA confirmed yesterday that it would be pulling its two Rock Band games from the iTunes App Store by July 31, 2012. Although gamers will still be able to play them locally, both Rock Band and Rock Band Reloaded will not be available to download after the 31st. There was actually a bit of hint about it back in May when gamers opened the game and were shown a message stating that the game would expire by the end of the month. EA said it was an error, but it may have suggested something about the games' eventual removal from the App Store.
Pulling the games from the App Store comes as a result of the end of a licensing agreement between EA and Harmonix. There are no known plans to renew it, so be prepared to lose the game if you decide to delete it from your iOS device.
Once the end of the month has passed, users will only be able to restore their songs by iTunes via iCloud backup. "You will be able to restore your songs by iTunes provided you have an iCloud backup. An iCloud backup can be created before or after July 31 by selecting backup to iCloud in iTunes," EA said in a statement on its website, along with backup instructions provided.
[via EuroGamer.net]