ROCCAT launches Isku FX gaming keyboard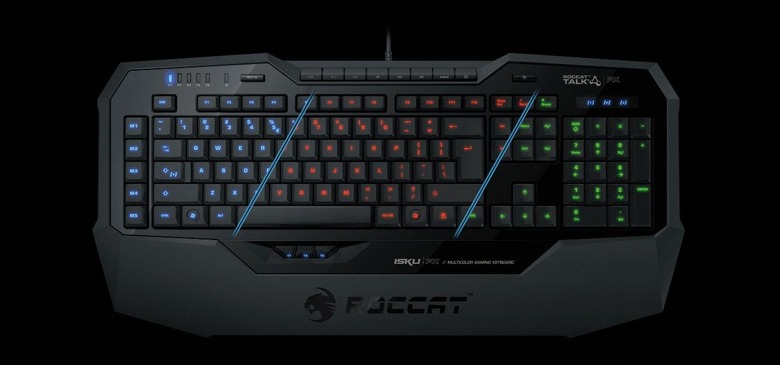 For the PC gamer, there are a huge number of gaming keyboards available. A lot of these keyboards come decked out in LED lights so you can see what you're seeing while you're presumably playing in your darkened man cave, but the folks at ROCCAT have decided to take keyboard backlighting to the next level. Say hello to the new Isku FX gaming keyboard, a board that looks familiar at first but holds a really exciting feature beneath its keys.
According to ROCCAT, the Isku FX features backlighting that can change on the fly, with users having an astounding 16.8 million colors to choose from. There are six different brightness levels too, so it sounds like users will have quite the customizable keyboard if they choose to pick this up. Things somehow get cooler though, as the Isku FX is also compatible with ROCCAT Talk FX, which aims to turn in-game events into "exciting sensory effects" on the keyboard.
ROCCAT gives an example of how the Isku FX works with Talk FX in its announcement using World of Tanks. For instance, you keyboard and your Talk FX-enabled mouse with both flash white whenever a new round is beginning, or flash red when you take a hit from an enemy. It isn't the most necessary technology out there, but it makes for some cool effects nonetheless. The Talk protocol also allows your Isku FX keyboard to communicate with your mouse, which in turns lets you take advantage of things like Easy Aim, a feature has you pressing a key on you Isku FX to adjust the DPI setting on your mouse when you need more precision (such as when you're sniping in an FPS).
The Isku FX also sports a price tag that's in line with other gaming keyboard, as ROCCAT has stuck it with a suggested retail price of $99.99/€99.99. The keyboard isn't available quite yet, but ROCCAT says it should be hitting shelves sometime this week, so its release is just around the corner. If you've been on the lookout for a new gaming keyboard, you might want to give the Isku FX a spin.