Robert Scoble Talks Windows Phone 7, Google, And Location-Based Services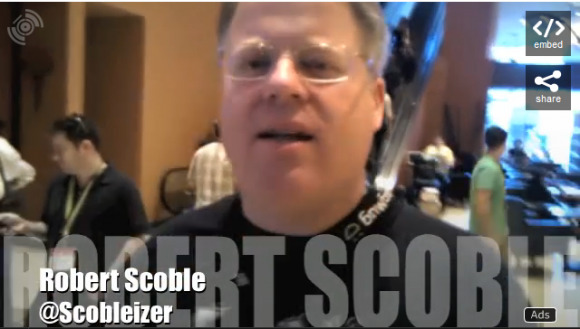 If you hadn't heard, South by Southwest Interactive is going on right now, over there in the big state of Texas. It's one of the biggest conferences around, and all types of people show up to speak their minds, show off the latest and greatest, and have fun doing it. Included with some of those people (outside of our own team), is Robert Scoble. He's one of the biggest names in the tech journalism game (just try following him on Twitter or Google Buzz), and he's got some great perspective on quite a few things. Most importantly, the big names in tech right now.
Windows Phone 7 Series is one of the most highly-anticipated, most-talked about platforms to come around in awhile. A lot of people see it as the resurrection of a mobile Operating System, and we're amongst them. Scoble expounded on his own ideas regarding the latest and greatest from the Redmond-based company, most of which circled around the fact that he believes Windows Phone 7 Series is a beautiful thing. He went on to further mention that the User Interface in the 7 Series has moved past the iPhone, which is a good thing. He did mention some problems, though. For example, it's not out yet. We agree: that is a bad thing.
The second issue deserves its own paragraph. Scoble wanted to make it clear that Google has figured out the best game plan for their Android-based devices. Going as far as to say that when he picks out his next device next year, it's not going to be because it's pretty, but because of the services it offers. In this way, he does not believe that Microsoft (and Apple as well) will be able to offer the same experience. Case in point, while you get to keep all your applications from the iTunes Store via iTunes proper, you still have to sync your phone to the computer and download them. When you get a new Android device, if you've set up a back-up from a previous one you had, then the moment you sign in onto your new device your applications are immediately downloaded to your device. Right from the cloud.
What's Scoble's advice to Microsoft? Fire everyone that's not working on Internet-based, mobile device products. From the top down. So basically start fresh.
Moving on to location-aware applications, he spoke on Twitter, Gowalla, and Foursquare. Despite the fact he was obviously overjoyed by the simple fact they were all working at this year's SxSW, he noted that while it's great Twitter is getting into the market, they aren't offering something in return for people "checking in" at locations. Simply geotagging a location is not enough for people to keep up with the service. The reason Foursquare and Gowalla have picked up speed is because they give something back to the user, such as points, badges, and the like.
But everything isn't roses and butterflies for the location-based service giants. Apparently, if you get the appropriate teams drunk enough (which, for the record, SxSW is a perfect place to do that), they'll tell you that their biggest competitor is set to turn on their own location-based platform in April or May: Facebook. Considering the big user base it will build off of, we're wondering what kind of services the platform will offer, and how indeed it will compete with the likes of Foursquare and Gowalla.
And then, of course, we have Google Buzz. Scoble's been a high priority target on Google's latest project, and has amassed quite a few followers since its launch. And while he believes that Google Buzz is interesting, he admits that it's much like Twitter in that it doesn't offer something in return for tagging a location. The most interesting part of Buzz is Google Maps, and the layer it exists in. Seeing nearby buzzes is great, but it's not enough to be an actual competitor to the location-aware giants.
SxSW is still going on, so hopefully we'll get the chance to mingle with a few other big names walking about. If we do, we'll be sure to pass it along. Check out the video below if you want to hear all the bullet points in a more spoken fashion. Plus, you get to see all the people milling about like ants. Which is always fun.
[vms 163ccdba4acc69819f28]