Roadbox - Your very own electronic witness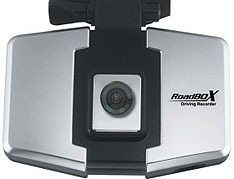 Hoping for a little proof to show that the other driver was actually at fault? Roadbox has come up with the answer. Fourteen seconds before sudden braking or collision this little device begins recording and will continue to record six seconds afterwards. This device has not yet hit the market, but it would seem some Japanese and Korean taxi companies are already asking for this product.
The camera angle is 120 degrees, which is not too shabby. Except that leaves a good portion of your vehicle unrecorded. I guess just cross your fingers and hope for a head on collision. To view the footage a USB cable must be used to transfer the data to the computer. For those of you who are interested in this product it will be available in mid-March for about $175.
Roadbox records moments before crash [via ubergizmo]