Rivian has a bold EV plan that Tesla could learn from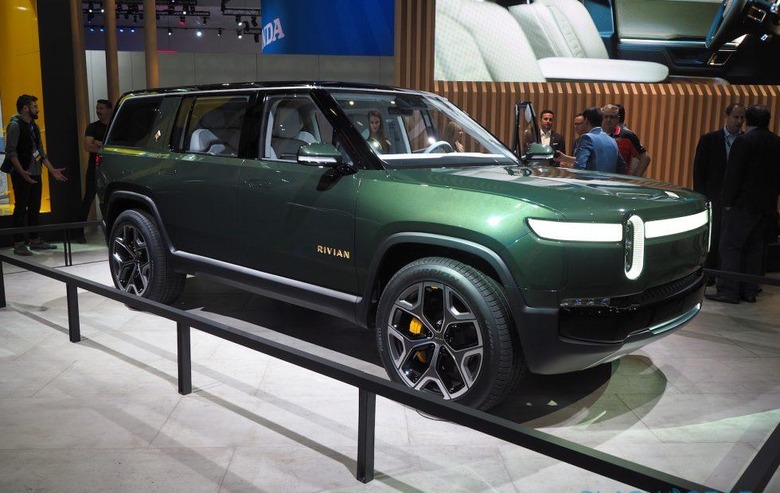 You might not know the name Rivian right now, but if the EV startup has its way you'll be saying it alongside Tesla in just a few years time. Having flown generally under the radar since setting up shop in 2009, the automaker brought not one but two cars to the LA Auto Show 2018 this week, and both have the potential to seriously shake up not only the electrification space, but the car industry in general.
First, there's the Rivian R1T. Rather than following in the footsteps of Audi, Mercedes-Benz, and others, and making an electric SUV, Rivian has turned to a less obvious vehicle: the pickup truck.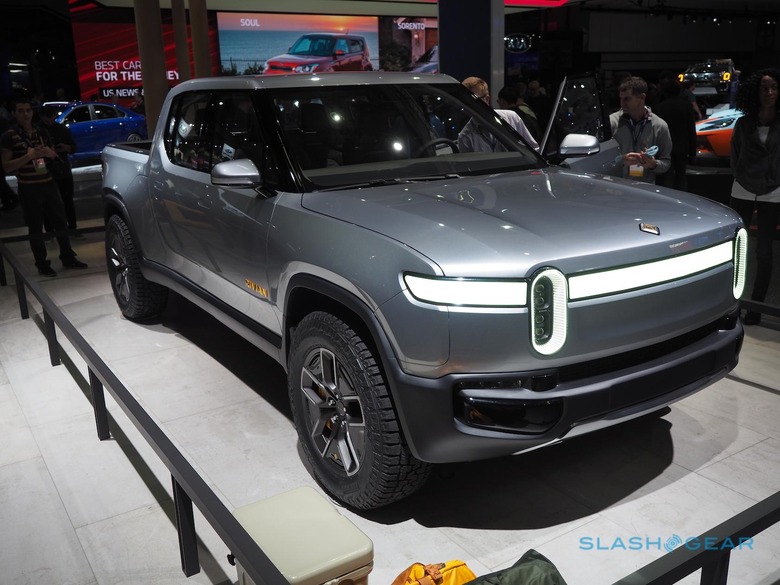 There's no denying that pickups are popular in the US. At the same time, though, they're not necessarily the first category you'd envisage an EV attempting. Rivian, though, is insistent: all that electric torque, the automaker points out, pays dividends when you're dealing with big payloads or towing, while an electric pickup can make far more flexible use of cargo space.
Coming swiftly after the R1T pickup, meanwhile, will be the Rivian R1S. A seven-seater SUV, it'll target another perennially popular category in the US market. Resembling a cross between a Range Rover and a Lincoln, it promises to make the same cunning use of space, only in the name of hauling a family and its respective luggage.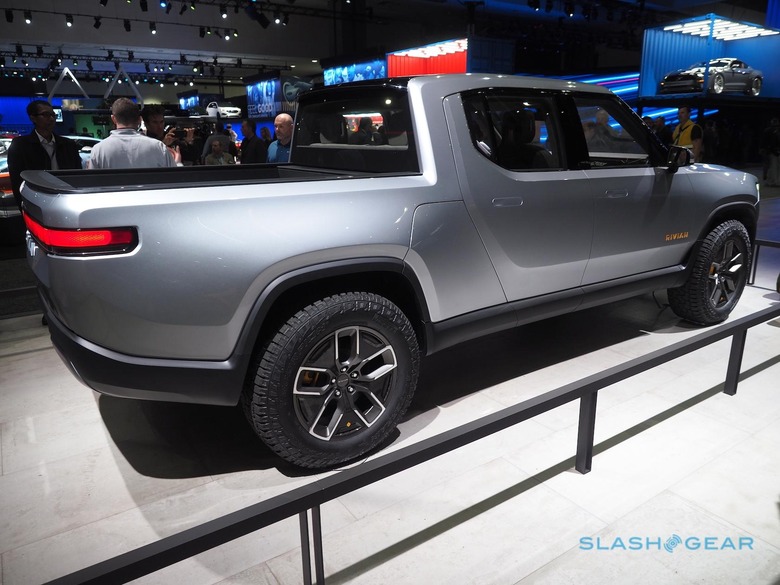 Ambitious renders of shiny new EVs haven't exactly been uncommon over the past few years, but Rivian has an aggressive launch date in mind, too. By 2020, the company says, it'll have first the R1T and then the R1S on sale. Pricing will start at $69,000 for the pickup – before incentives – and at $72,500 for the SUV.
The commonality – indeed, what makes launching two brand new cars in rapid succession anywhere close to practical – is Rivian's so-called skateboard architecture. It's effectively a sandwich of the propulsion elements of the platform: the battery array, the four electric motors, the suspension, braking, and thermal systems. On top of that, Rivian can basically bolt any body they want.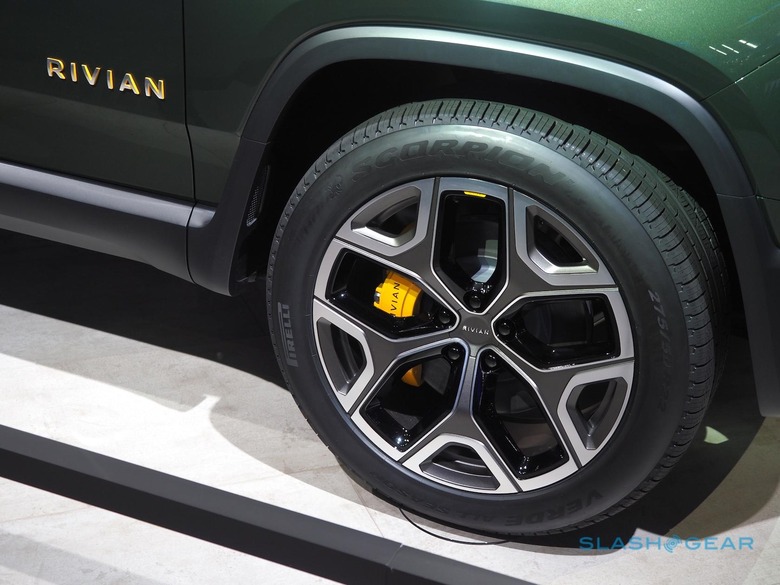 From that point on, it becomes a juggling of battery size, range, performance, and of course price. At its most affordable, Rivian's skateboard will do around 240 miles on a charge. At its most long-legged – and, the company told me, the model it expects to be most popular – it'll do more than 400 miles. In-between there'll be a mid-range model that takes advantage of its lighter weight battery pack to do 0-60 mph in around 3 seconds.
They're both big, imposing vehicles, and Rivian has made good use of the space. The pickup in particular is a textbook example of how electrification opens up new possibilities. Not only do you get a front trunk – or "frunk" – along with the pickup bed at the rear, plus a cargo space under that bed, but a so-called gear tunnel storage section too. That spans the width of the R1T just ahead of the rear wheels, in the space where the gas tank in a traditional pickup would be located.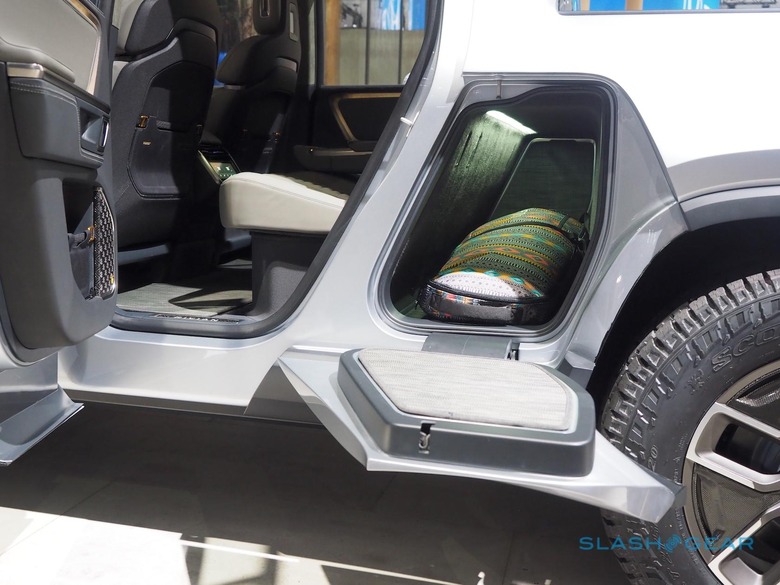 It's not a small area, either: 350 liters, Rivian says. Enough to fit a full golf bag, or something like a stroller or a surfboard. Panels on either side give access to the illuminated space inside, as well as acting as steps to make it easier to reach the roof rails.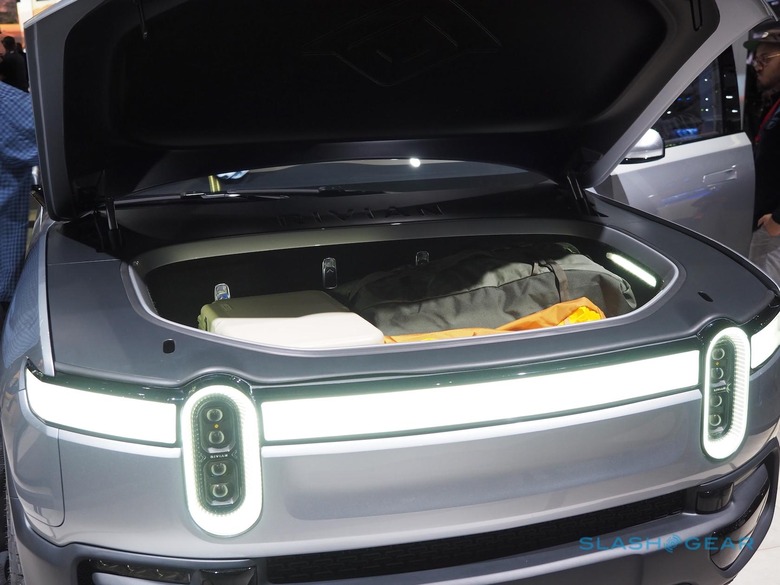 I've seen plenty of electric car concepts, and many of them have been finished to a high standard – for the trade show floor, at least. Rivian's pair is no exception. The dashboard is sculpted and architectural, with wood inlays and subtle LED illumination. Twin displays handle both the driver's instrumentation and control of the infotainment; a third screen in the back deals with rear HVAC and other settings.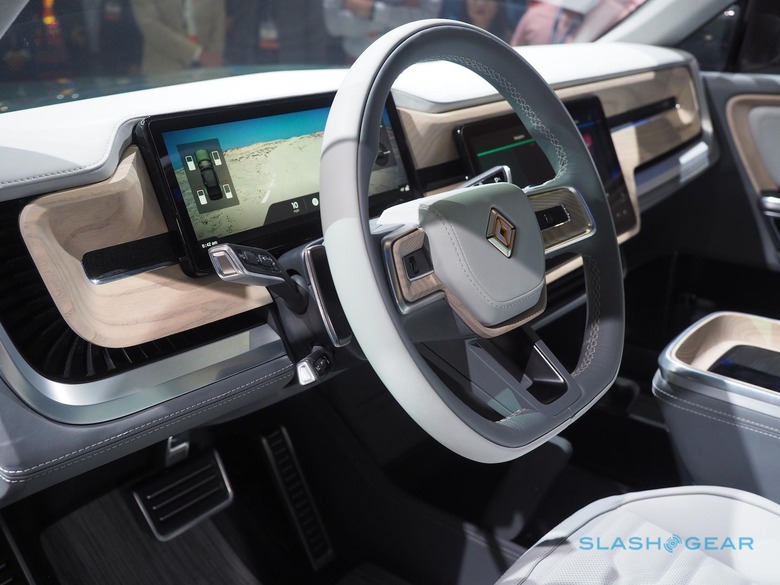 Thoughtful tidbits abound. Pop-out torches in the doors, for example, and removable telescoping roof rails that can stow inside when not required. In the R1S, both the second and third rows of seating can fold down to maximize cargo space. The R1T gets a power frunk lid and a power tailgate, along with an integrated air compressor and several power outlets for tools and such.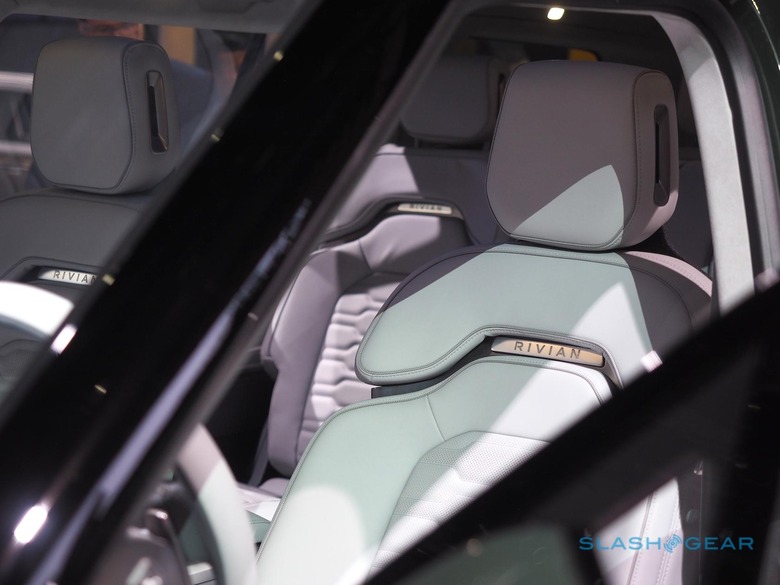 More importantly, Rivian apparently has the manufacturing ready to ramp up. The company quietly acquired an old Mitsubishi plant and has refitted it for EV production. Production experts smarter than I when it comes to the realities of starting up a new car company have been cautiously optimistic this week in LA when I've asked about Rivian's aggressive intentions.
It won't stop at the R1T and R1S, either. They may use a quad-motor version of the skateboard, but Rivian already has twin-motor test mules on the road. That opens the door to potentially more affordable front- or rear-wheel drive models. Similarly, there's potential flexibility around vehicle size. While that would likely have a knock-on effect on battery capacity and other factors, it could give Rivian a shortcut to a far broader range – at a faster rate – than other automakers have been able to achieve.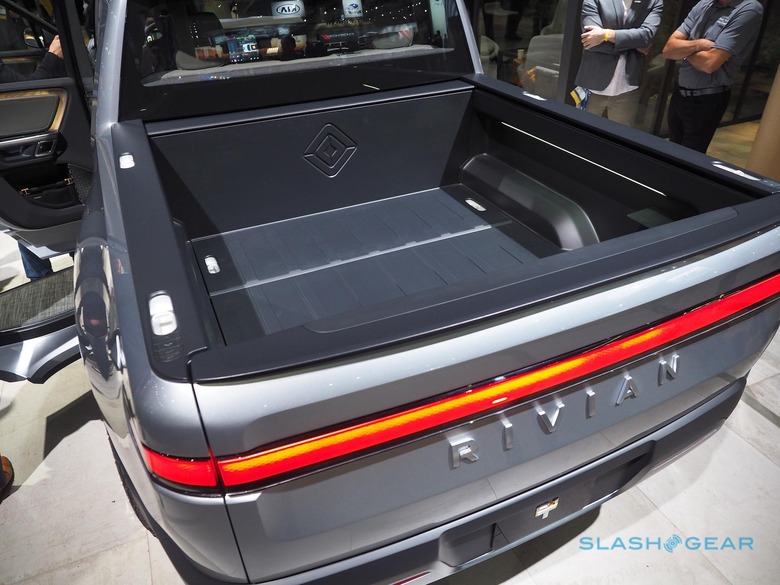 That, of course, is based on a whole bunch of assumptions, not least that Rivian actually manages to go from show car debut this week to production in less than two years time. Just as EV startups haven't been rarity in recent years, neither have EV startup failures. Even if Rivian does manage to get R1T and R1S vehicles to paying customers, there's no guarantee that it'll last long enough to build out the rest of its roadmap.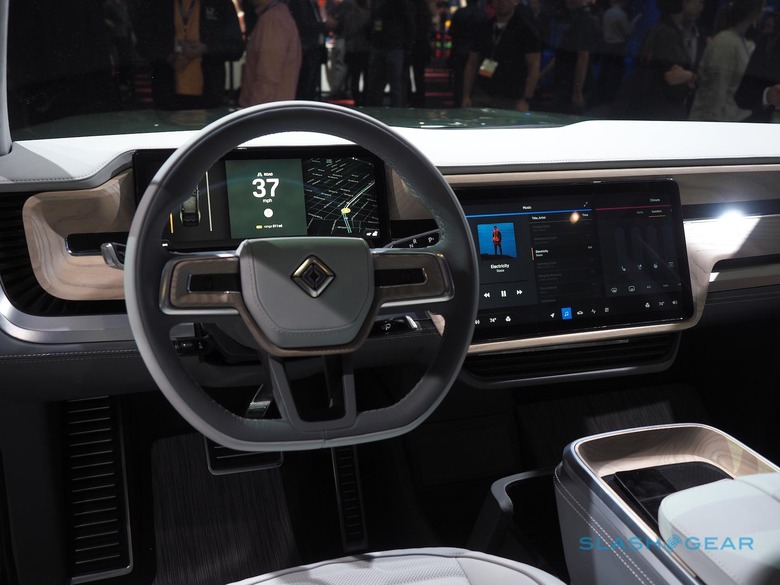 Still, the difference between Rivian's strategy of working away relatively quietly in the background before building hype, and what we've seen of other automakers – and yes, Tesla probably falls into that category too – is stark. Getting your ducks in order before you go shouting about them isn't a guaranteed recipe for business success, but it seems like a more solid place to start. The hype machine may get you attention, but it doesn't get your cars off the production line any faster.
Even Rivian's autonomous pitch is tempered. Both EVs may have a complement of LIDAR, radar, camera, and other sensors, but initially the goal is a hands-free Level 3 system for highway driving. It's a far cry – and welcome restraint – compared to the "we'll have self-driving robo-taxis before you know it" predictions many fledgling automakers are promising.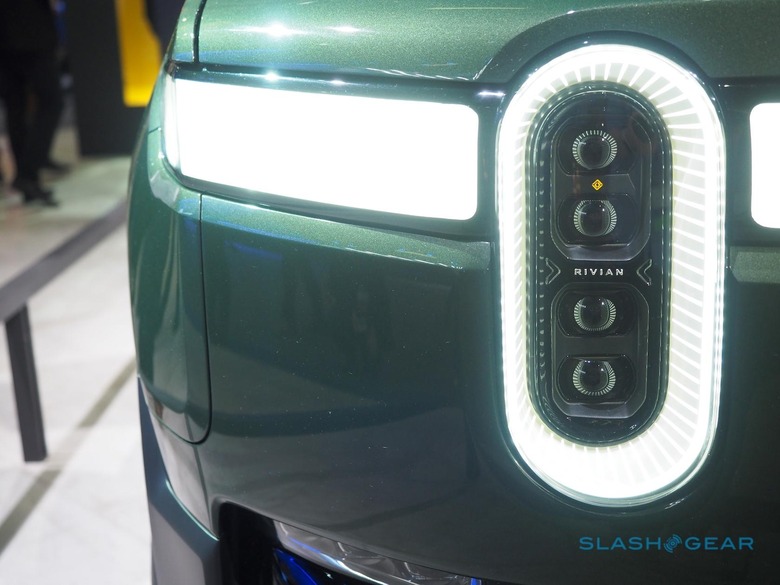 In the end, what sets Rivian apart is just how carefully imaginative it has been. The R1T and R1S aren't amorphous space-pod blobs or infeasibly angular flights of design fancy. Instead they explore the practicalities opened through electrification: the simplification of platform, together with new uses of space for passengers and cargo. That's the sort of thinking which will help set electric vehicles apart as not only alternatives to their internal combustion counterparts, but as overall improvements to them.