Ripple Korea unveils new Ripple Look AMD Brazos SFF computer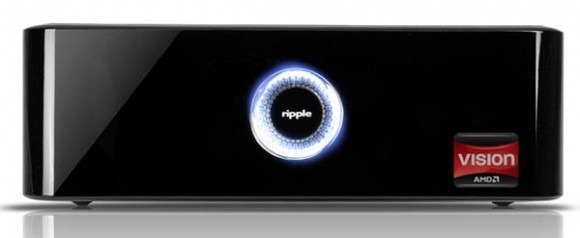 There are plenty of tiny little computers on the market today that make for very nice SFF computers and HTPC rigs for the living room. The smaller a machine the more likely it is to find space in the crowded entertainment center or on a crowded desk. Ripple Korea has a new and cool computer that is very small and compact called the Ripple Look.
The machine was announced last week and runs the AMD Brazos architecture inside. On the outside, the small PC has a shiny black chassis and a glowing blue circle around the Ripple logo. The rig looks really cool. Inside the shiny black chassis is a new AMD Zacate E-350 CPU that runs at 1.6GHz. The little rig also runs AMD HD 6310 graphics.
Other Features include 2GB of DDR3 RAM inside along with a 320GB HDD using the SATA II interface. Connectivity includes a HDMI port and D-sub. It's hard to tell from the photo just how compact the machine is, it has a weighs 400g and measures 235 x 215 x 69mm.
[via Akihabara News]