Ringly Go classy smart bracelet features leather and stone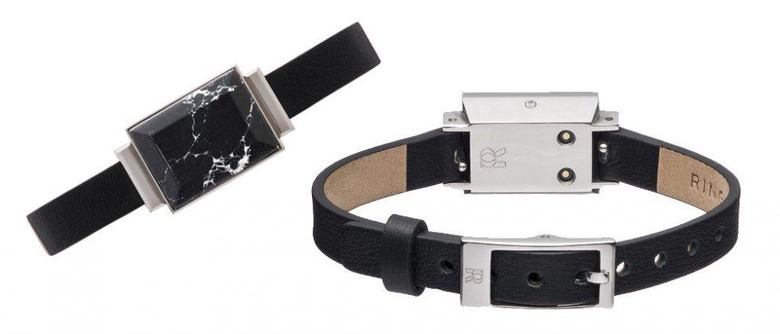 Back in early 2016, Ringly introduced a stylish wearable with a metal bracelet and a fancy jewel called Aries. The company is back with a new similar wearable product, this one called Ringly Go. As with the original model, Ringly has designed its wearable to be classy, something you could wear during a formal engagement without anyone realizing the tech behind it. The big difference, though, is its more modest, somewhat casual design.
The new Ringly Go wearable comes in two varieties, one with a 'blush' leather band and a white stone, the other with a black leather band and a black stone. Both look, at first glance, like regular pieces of jewelry. They're more than that, however, with Ringly describing them as activity trackers with mobile alerts. Both are priced at $125 USD from the company's own website.

According to Ringly, both of these Ringly Go wearables feature a full-grain Italian leather band alongside a battery able to power the underlying technology for up to 48 hours. The reconstituted stone is rectangular in shape, and is itself joined by five colored lights and four vibration patterns. The company says the product is one size with an adjustable band ranging from 5.6- to 8-inches.
The customizable lights and vibration patterns are used to get alert notifications from a paired smartphone, of which Android 4.3 and iPhone 5 and higher are supported. The tracker keeps tabs on fitness and activity metrics like how many steps the wearer has taken, the distance they've traveled, and how many calories have been burned based on this data.
SOURCE: Ringly