Ringly Unveils Aries Step Counting Bangle Bracelet Wearable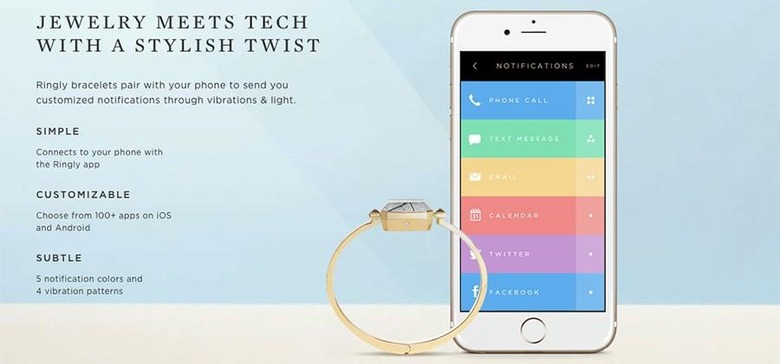 The last time we talked about Ringly is when the company unveiled its little vibrating ring that notified users of calls, texts, and other items by vibrating. Ringly is back with a new wearable device for folks who don't like to wear rings, but want in on the Ringly action. This time out the wearable device is a bangle bracelet. The stone in the bracelet looks the same as the stone in the ring.
Said stone is where all the electronics hide that makes the ring or bracelet interface with the smartphone. One new feature that the bracelet adds is the ability to count steps. The Aries bracelet supports over 100 apps on iOS and Android devices including Snapchat and others. It has five notification colors for the light on the side and four vibration patterns.
That means you can be alerted with a color and a number of vibrations for each notification you are being given. The step-counting portion of the bracelet monitors calorie output and allows the wearer to set targets and get alerts when you reach goals. The bracelet is offered in an S/M size with a 6.5-inch circumference and an M/L size with 7.5-inch circumference.
The wearable is gold plated and can be had with semi-precious stones and crystal or stud details. The device connects to the phone via Bluetooth and will operate 20-30 feet from the phone. The internal battery lasts for up to 48 hours per charge and needs four hours to charge completely. Available stones include tourmalated quartz, lapis, rainbow moonstone, and labradorite. Each bracelet sells for $195 for now if you pre-order, the normal price is $279. The first 1,000 pre-orders get a real diamond on the side where the notification light is located. The bracelet will ship this summer.
SOURCE: Engadget