Ring Doorbell hands-on: See who's at the door through your smartphone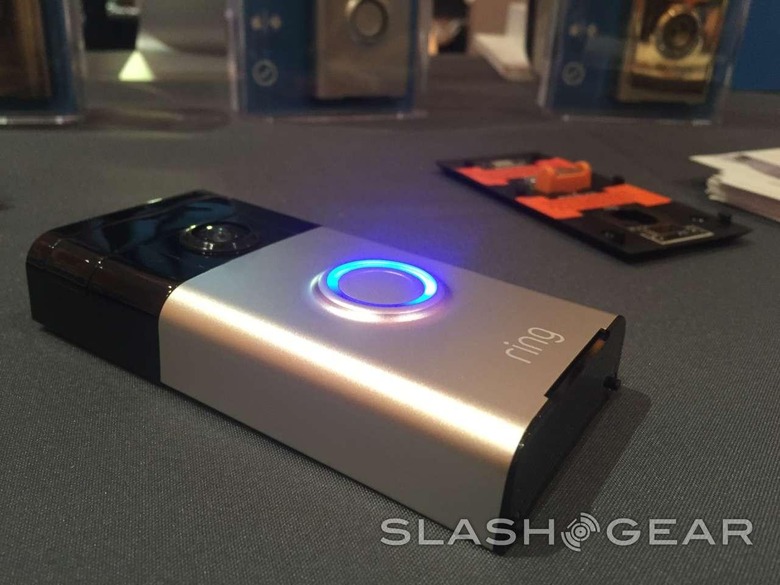 Wondering who's at your door when that bell goes off is either alarming for some or curious for others. The Ring acts as an internet camera door bell that displays on your smartphone and shows you who's at your door step when that bell goes off. The functionality is cool because now when you're busy or not, you don't have get up to answer the door, let alone talk to whoever it could be. Just answer the door from wherever you are or not. The smart doorbell has me wondering how fun its going to be now when people ring the door.
Ring is equipped with a wide-angle HD camera (720p) that can cover a 180-degree view and up to 30ft in distance. It's customizable in configuration so you can monitor exactly what to see. Connected through the Ring app, the doorbell operates by connecting to your home Wi-Fi; and as long as you have data connection you'll be able to use the app as well. It's compatible any iOS or Android devices and can connect to an unlimited amount of devices at once. The mobile app was not available at the moment so we were left with advertising commercials that suggest how the user-interface looks.
Features include motion detection, night vision, a choice of using a built-in battery or existing doorbell wiring, speakers, microphone and cloud recording. Installation of the removable wall bracket should take minutes and require no professional help, Ring says. Functions such as motion sensor notifications can be triggered but can seem to become a nuisance depending on how sensitive the sensor is. A few different finishes are offered – nickel, brass, bronze, and polished brass. The door lock measures in at 4.98 x 2.43 x 0.87-inches and has you dish out $199.
The technical function serves a strong purpose in providing a positive visual of who's at the door. The installation is simplistic but has a soft plastic body frame that could easily be seen to rip off. Not condoning vandalism but the unit could use more of a sturdy material to beef it up. With Smart technology being integrated everywhere we can possibly find useful, will Ring be a device able to capture people's attention?