RIM's first BlackBerry QNX smartphone surfaces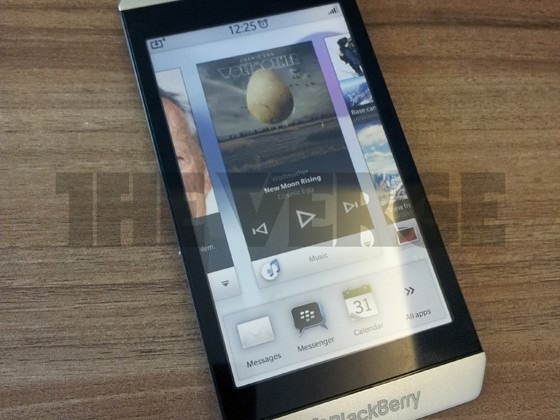 What's purported to be a snapshot of RIM's very first BlackBerry with the company's new QNX-based OS, also now known as BBX, has emerged. The handset is codenamed "London" and is scheduled for release sometime in June of 2012. The source of the image also revealed the specs for this all-touchscreen device that's certainly cosmetically a huge departure from RIM's traditional BlackBerry styling.
The London will allegedly sport a dual-core 1.5 GHz TI OMAP processor with 1GB of RAM, and 16GB of onboard storage. It will also feature an 8-megapixel rear-facing camera and a 2-megapixel front-facing camera. The chassis is said to be thinner than that of the iPhone 4 and about as big as the Samsung Galaxy S II. The device can also be stood straight up on one side, suggesting a rather boxy design.
The design of the London features aluminum accents and an angular look that's reminiscent of the Porsche Design P9981 special edition BlackBerry. It's possible that this is a prototype designed by Porsche as well. And given the far-off mid-2012 release date, it could go through many changes before we see the final product. In addition to the London, RIM is also expected to launch two lower-end phones as well as a next-gen Torch with a 3.7-inch display and a slide-out keyboard.
[via The Verge]