RIM To Discontinue Flickr For BlackBerry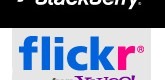 Research In Motion (RIM) just announced on their website today that they would be discontinuing support for the Flickr Uploader on their BlackBerry smartphones starting on March 1, 2011. The app allowed users to wirelessly upload images taken from their BlackBerry smartphone direct to their Flickr account.
The news comes at a strange time considering that RIM has been improving the cameras on their BlackBerry smartphones, which should see increased photo use from their customer base who would appreciate easy uploading to a popular photo sharing service such as Flickr.
For those needing to continue uploading photos to Flickr from their BlackBerry phones after March 1st, you will have to visit Flickr's mobile site at m.flickr.com from your BlackBerry's browser.
[Via BerryReview]