RIM releases BlackBerry PlayBook OS 2.1 update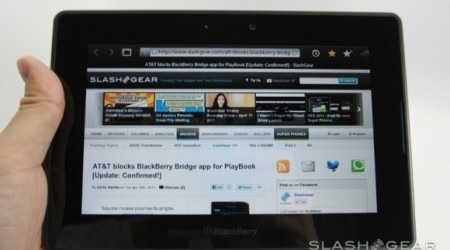 Today RIM has released an update to its WiFi-only BlackBerry PlayBook tablet. The update brings the PlayBook OS to version 2.1, and now includes a slew of new capabilities and security features. Users can now encrypt all of their data on the PlayBook, as well as send SMS messages from their PlayBook via their BlackBerry smartphone.
The new SMS feature uses a new version of BlackBerry Bridge that can be downloaded and installed from the BlackBerry App World store now. Additional features on the new OS update include the ability to use the Messages, Contacts, and Calendar apps in portrait mode, and you can now print documents from a BlackBerry PlayBook using their Print To Go app. This feature works even if the printer and tablet are connected to different networks.
PlayBook OS 2.1 also offers new features that make the tablet easier to use in enterprise settings thanks to BlackBerry Mobile Fusion. You'll be able to connect to the BlackBerry Mobile Fusion server over-the-air, get support for ActiveSync authentication, as well as have access to other IT Policy controls.
The 2.1 update is now available as a free download and it will arrive to your PlayBook tablet over-the-air. Users should automatically receive a notification of the update, but if not, you can tap the settings icon in the top-right corner and check for a new update under "Software Updates".