RIM officially launches BBM Music service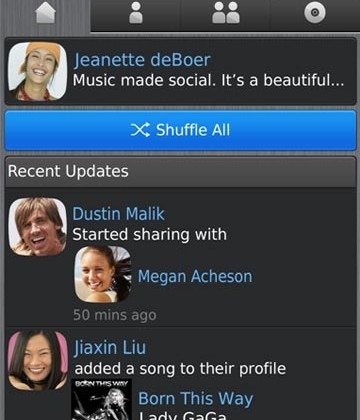 RIM's rumored BlackBerry music streaming service has officially launched. The details are much like we suspected last week, when insiders revealed that RIM was near signing all four major record label companies. The service offers an odd twist on music sharing and discovery that could either help spread usage or make it a huge flop.
The music service utilizes RIM's BlackBerry Messenger to help spread the word and to create shared music networks. You can build a personal music profile with 50 of your favorite songs and then invite your BBM friends to join your music network. Each additional user can contribute up to 50 of their favorite songs to the shared pool of music and thereby increase the amount of music accessible to everyone on the network.
In this way, the music experiencing becomes truly social, as the more friends you have the more songs you have access to. You can comment on your friends' songs and playlists and you can create multiple playlists from music in your own profile as well as from those on your friends' profiles. You can also see who contributed a song while it plays. Another social element is a visual timeline showing recent updates of all your BBM music network friends such as who added new friends, which songs were added or removed, which playlists were created, and recent comments.
Additionally, you can keep track of how many friends are listening to the songs that you've shared, to perhaps gauge your taste and influence. And if you expect to be without wireless coverage, you can save songs to your smartphone ahead of time to listen while offline.
However, after a free trial period, the service costs $4.99 a month and you can only swap out about 25 songs each month. This is an interesting model, but it has plenty of competition from other services that offer unlimited selection such as Spotify, Rhapsody, and MOG. What do you guys think?