BlackBerry Z10 Officially Announced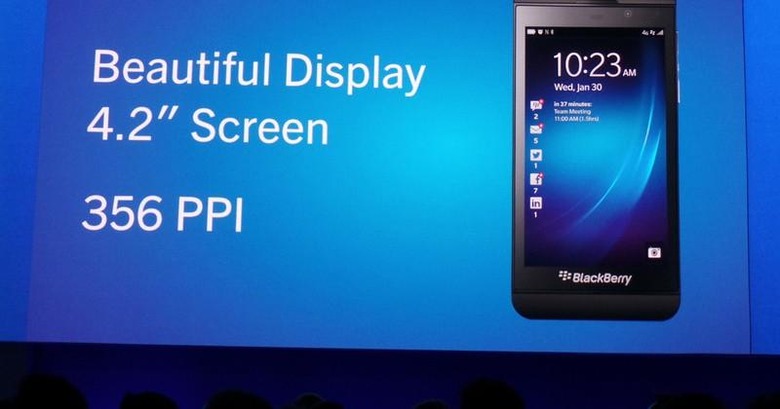 Today at RIM's launch event in New York City for BlackBerry 10, the company (which has renamed itself to just "BlackBerry") officially unveiled two new devices, one of which we've already heard about plenty of times. The BlackBerry Z10 is one of RIM's first devices that will run the company's new BlackBerry 10 operating system, and it comes with a full touchscreen display, which isn't the first time RIM has done this, but it certainly isn't common for them.
The BlackBerry Z10 has a 4.2-inch display, with a pixel density of 356 ppi and a 1280 x 756 resolution. It's a slightly smaller display than most other Android devices out on the market currently, but the impressive pixel density will surely please any BlackBerry user. The back of the device has a "textured surface" that makes it "really comfortable to hold."
The device will come in both black and white models, and essentially, the rumors and leaks have turned out to be mostly true. It has the overall rectangular shape with the rounded corners, as well as the camera and LED flash up in the top-left corner. The new device also has what's called Time Shift Mode, in which it allows users to take a photo, and then go back in time to find the exact moment of a particular facial reaction — a pretty clever feature for those that are avid camera slingers.
Not a lot of specifics have been revealed just yet, but I'm sure we'll hear more as the event continues. However, it's nice to finally see the BlackBerry Z10 in all its official glory, rather than those sneaky shots taken from within the shadows, as seen in BlackBerry's recent teases. Stay tuned for more BB10 news!