RIM changes App World to BlackBerry World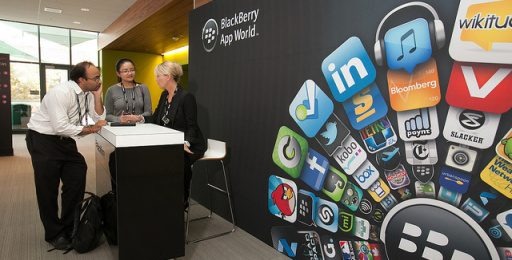 RIM has unveiled the new name for its BlackBerry App World: BlackBerry World. Not much of a change, yet the difference is there, and will be rolled out in January. The name change was announced at BlackBerry Jam Asia in Bangkok, along with a few other tidbits of info related to the name change. Expect to see the change take place before the January 30th BlackBerry 10 event.
Developers who received the beta operating system today will see the new icon for the storefront. The name change is likely due to inclusion of music, movies and TV shows, making it more than just an app store, and helping position it to compete with the likes of Google Play and Apple's App Store. The rest of the details, RIM says, we have to wait until January to hear.
Users with BlackBerry 5, 6, 7, and 7.1 smartphones will see the new name, but will not have access to the video and music content. PlayBook users, however, will have access to both via the Music Store and the Video Store apps. Less you worry, the current appworld.blackberry.com URL will be maintained for apps already in place.
As we reported earlier this month, RIM plans to unveil two handsets at the January 30th event alongside the new platform. Details about the phones are unknown, but one handset is expected to be a pure touchscreen, while the other is rumored to be a QWERTY handset. BlackBerry 10 entered testing with over 50 carriers back in October.
[via Blackberry]