RIM BlackBerry Storm 3 caught in wild?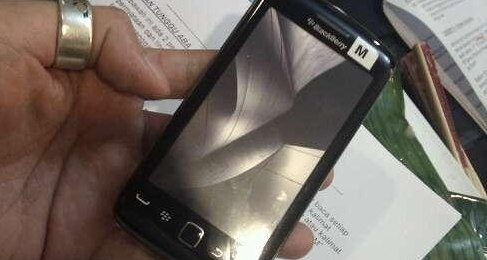 Is this the BlackBerry Storm 3?  With RIM's BlackBerry 6 OS the most finger-friendly platform the Canadian company has prepared to date, we'd be very surprised if they weren't also working on a third-generation version of the touchscreen smartphone.  According to BerryReview's anonymous source, you're looking at the BBS3 now.
Details are light on the ground as to the hardware specs, but the source claims the Storm 3 will have a 3.7-inch display and 8GB of internal storage.  Of course, there's no telling what resolution that screen might be; we're used to 3.7-inch displays supporting WVGA, on Android devices at least, but as RIM showed with the BlackBerry Torch 9800 they're willing to sacrifice pixels to preserve backward compatible with apps.  The Storm 2 display ran at 480 x 360, though it only measured 3.25-inches.
Beyond that, there's talk of mobile hotspot functionality – sharing the Storm 3's data connection via WiFi with netbooks, iPads and other nearby devices – but that's it.  Previous rumors have suggested a Q4 2010 launch for the third-gen smartphone.
[via BlackBerry Rocks]