RIM BlackBerry Bold is official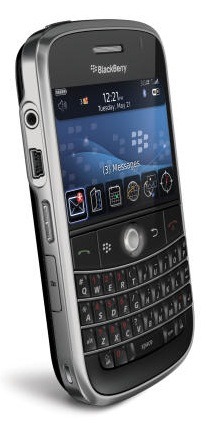 RIM finally took the covers off of the highly anticipated and much-rumored BlackBerry Bold smartphone. RIM wants you to think of the phone's beautiful display when you think of the "Bold." The BlackBerry Bold is no doubt beautiful, at least for a BlackBerry anyways. So everyone, please say and give a warm welcome to the all-new BlackBerry Bold.
The BlackBerry Bold features a 480x320 pixel resolution, 65,000-color display, a new design that looks much more elegant than previous BlackBerry models. The Bold sports curvier edges and a silver trim complementing the black casing. Flip it over, and you'll find that RIM has added a leatherette texture to the back. The days of cheap and slippery plastic are gone. RIM intends to sell replaceable backplates in different colors, including blue, gray and red. The Bold weighs 4.7 ounces and measures 4.5-inches tall by 2.6-inches wide and only 0.5 inches deep. The blackberry Bold also has a new QWERTY keyboard that's a more modernized version of the Curve. People who have used the new layout have commented that it's pretty easy to use thanks to its "large-ish" buttons with some spacing between the keys.
As for wireless connectivity, the BlackBerry Bold is quad-band (GSM 850/900/1800/1900) in addition to HSDPA/UMTS (850/1900/2100). RIM also blessed the Bold with Wi-Fi (802.11 a/b/g), Bluetooth 2.0 (full support for A2DP) and integrated GPS with enhanced and assisted. A 624MHz Intel PXA270 processor powers the Bold. It's twice the speed of previous models via a 312MHz processor. There's also 128MB flash memory and 1GB of onboard memory, which is all supplemented by the microSD/SDHC expansion slot (supports up to 16GB cards).
For web junkies, the web browser has been improved with options to view pages in a full desktop HTML style or a mobile version. The trackball acts more like a mouse cursor and zoom in/out; allowing for moving around the screen easier. The 2.0 megapixel camera isn't much to brag about but at least it lets you zoom up to 5x and record videos. The media player support numerous audio and video formats, including MP3, WMA, AAC, DivX4, and WMV3 files, and the phone is equipped with a 3.5mm headphone jack. The Bold has now got some pretty powerful speakers. Wahoo.
The Bold isn't available because it's still going through carrier certification, and yes, base on the power of deduction, the Bold will launch on AT&T network. If you're salivating over the Bold, expect to shell out between $300 to $400. It should launch worldwide this summer.