Ridiculous McDonald's Frork has tasty tater tines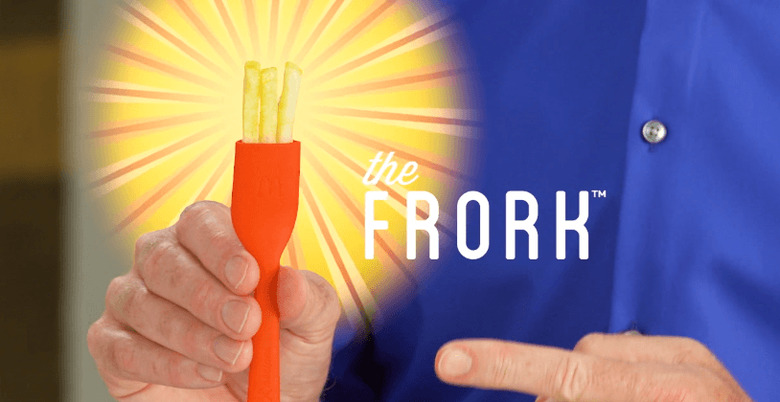 McDonald's is up to strange things again. This time though, with the introduction of a utensil called the Frork, McDonald's knows it's up to strange things. Developed as a way to promote its new Signature Crafted recipes, McDonald's is going all out with the self-deprecating humor, even going so far as to hire an infomercial legend to sell the thing in a backhanded way.
What is the Frork? In McDonald's own words, it's an "edible, utilitarian and desperately innovative," utensil that uses fries for prongs, giving you an edible way to scoop up any toppings that may fall off your sandwich as you're eating it. If that's seems strange, then buckle up, because the actual utensil has nothing on the infomercial McDonald's put together to show the thing off. Have a look:
See what I mean? Can we call this jumping the shark if the company doing it knows it's jumping the shark? Probably not, which is part of what makes this so weird. Had McDonald's released this unironically, it would somehow be less ridiculous. Who knew that McDonald's was such a disciplined student of Theater of the Absurd?
Anyway, if you'd like to try the Frork for yourself, you'll soon get your chance. It doesn't sound like everyone will get one, as only a select number of McDonald's will be handing them out on May 5 with the purchase of a Signature Crafted sandwich. There are three sandwiches in all: pico guacamole, sweet BBQ bacon, and maple bacon dijon.
To find out which McDonald's near you are giving out Frork, you can (I can't believe it's come to this) call the Frork hotline at 1-844-MCD-FRORK (1-844-623-3767). The line went active yesterday, so go crazy. Other than that, head out to McDonald's from May 4 to May 8 to get a free order of medium fries and a free soft drink when you purchase a Signature Crafted sandwich, and be sure to head down to the comments section to let us know what you think of this thing.