Ricoh WG-20 digital camera brings rugged features and 14MP sensor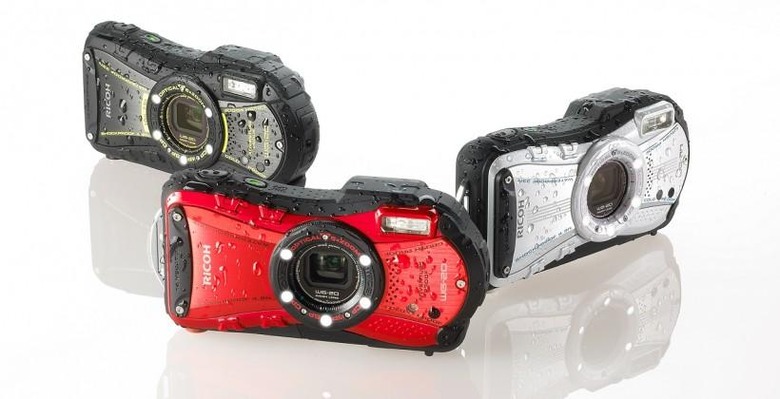 A lower-on-the-totem pole option than the recently announced WG-4 and WG-4 GPS models is the Ricoh WG-20, a rugged compact digital camera for individuals who do a lot of shooting outdoors or underwater. The camera brings with it a host of features similar to the WG-4 models, though with a smaller display and sensor.
The Ricoh WG-20 features a 14-megapixel sensor and an optical zoom rate of 5x, as well as a 28mm wide-angle lens and a 2.7-inch LCD. There's a digital microscope tossed into the mix, which is a fixed 16:9 / 2MP mode for close-up photography. As with the WG-4 model, the WG-20 features LED Macro Lights, though the number has been stepped down to five from six.
To keep images clear, there's "triple anti-shake protection", which is comprised of Pixel Track shake-reduction, digital shake-reduction, and a movie shake-reduction mode for when shooting films. Modes include a high-speed face detection mode and an assistance mode for taking selfies, as well 12 photo filters and an Auto Picture mode.
As far as the rugged features go, the WG-20 has the same IPX8 waterproof rating as the WG-4, though it can only be taken to depths of 10 meters for up to two hours of operation. The dustproof rating is IPX6, and there's shock-resistance from heights of up to 1.5 meters — resistance to cold go down to -10 Celsius. It can also handle weights up to 100 kilogram-force.
Likewise, there's no word on pricing and availability yet.
SOURCE: Ricoh Imaging