Ricoh GR Limited Edition digital camera introduced with patterned design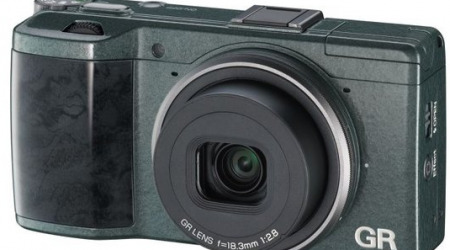 In April, Pentax unveiled the Ricoh GR compact digital camera, something that it is releasing in a limited edition model with a production run of 5,000 units. Though the specifications have stayed the same, the camera has scored a new design, with Pentax adding a greenish-blue hue to the shooter and a wave-like pattern.
Added to the design is also a wood-grain finish on the black grip, as well as a diamond-engraved GR in the lens ring. With the Limited Edition comes a price tag of $899.95 USD, with availability coming in the middle of next month. As such, those who elect to grab one of the limited-production units will be paying about $100 more than the regular version of the shooter.
With the Ricoh GR comes an APS-C CMOS sensor offering a bit over 16-megapixels, as well as the GR ENGINE V image processor. With the hardware, the GR offers high-sensitivity, something particularly helpful in low-light situations. This represents a specs boost over the GR DIGITAL series offered by Pentax.
There's auto focus in various varieties, including a standard auto-focus button, as well as a manual focusing option with assist. In addition, the Ricoh GR offers an aperture preview button, something new to the GR-series of cameras. The ISO goes up to 25,600, video recording goes up to 1080p, and there's support for the Eye-Fi SD cards.
SOURCE: Pocket Lint