Rhapsody optimizes its app for Windows Phone 8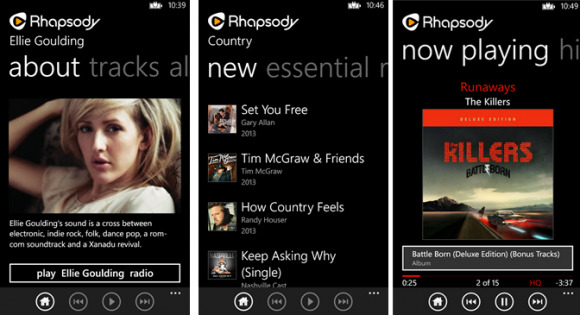 Rhapsody has just lauched an updated version of its mobile app, version 3.0, that's optimized for Windows Phone 8. It is most likely competing with the likes of Spotify, who released a Windows Phone 8 app of its own a little over week ago. The updated app looks very sleek, but aesthetics isn't the only thing it has improved on. It comes with a variety of new features that also improves your music listening experience as a whole.
Rhapsody offers its users access to over 16 million songs. With its new update, it also allows users to listen to music offline via downloaded tracks, albums, or playlists. With the new 'My Music' section, you can add or remove music, artists, or albums from your library, and you can also listen to other Rhapsody user's libraries whenever you want. You can add/remove sections from your 'My Stations' or 'My Playlists' library. Also, when creating a playlist on Rhapsody's website, the playlist will automatically sync with your Windows Phone 8 device.
One of the main selling features for the new Rhapsody app is the increased quality of audio playback. Rhapsody knows that low quality music can be deterring, so with its new Windows Phone 8 app comes fixes that should make your listening experience much more pleasant. Audiophiles should be thrilled. The search functionality for the app should also be better, and the album art retrieved for your music files has been improved as well.
Rhapsody offers a free trial for its new users so that they can test out the app before committing to it. After the free trial period ends, you will have the option of subscribing to either the Rhapsody Premier plan for $9.99, or the Rhapsody Premium Plus plan for $14.99. The only difference between the two is that the Premium Plus plan allows you to use the Rhapsody app on up to 3 devices.
[via Windows]