Rhapsody music service claims top paying customers spot in the USA

There's a site out there folks by the name of Rhapsody, one that's been around for 10 years now, averaging now more than 10 million songs running through its halls per day, and this week they've claimed their spot as the number one premium music service in the USA. Their other big claim to fame this week is that they've now got over one million paying subscribers, no small feat in itself. All this of course makes us not forget their recent acquisition of the infamous Napster back in November of this year.
What the folks at Rhapsody are saying this week is that 2011 has not only been a big year for them, it was more than likely their biggest year yet. The 1 million paid subscribers mark has also tipped the scales for another item of interest: the president of Rhapsody promised his team that if they ever reached that mark, he'd shave his head. That's what you're about to see a photo of below this loving quote from the man himself:
"We've accomplished quite a bit over the past decade, so it's no small statement to say that 2011 was probably our biggest year yet. I told our team that when we topped one million paid subscribers, I'd shave my head... it was probably the best free haircut I've ever had." – Rhapsody President John Irwin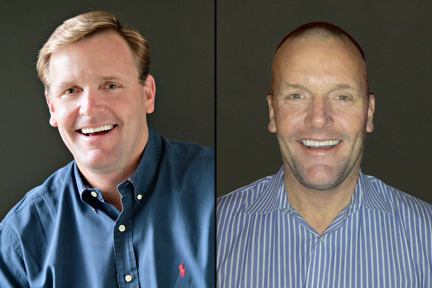 The team at Rhapsody also listed out their other big accomplishments for the year, another impressive list for the masses:
2011 Rhapsody Milestones

1/07/2011: Verizon Wireless announces Rhapsody will ship on its LTE devices, with integrated billing

3/1/2011: MTV and Rhapsody launch the "60-Day Free-For-All," giving new subscribers two months of free music and the largest free music promotion of its kind

3/18/2011: Rhapsody hosts Rhapsody Rocks Austin, with Deerhunter, Kurt Vile, Ty Segall, Small Black and Glasser at SXSW

3/31/2011: Rhapsody hires Rob Harvilla, former Village Voice music editor, as managing editor of The Mix

3/21/2011: Rhapsody launches on Windows Phone 7

7/11/2011: Rhapsody announces 800,000 subscribers

8/17/2011: Rhapsody announces partnership with MetroPCS for Rhapsody Unlimited Music

9/14/2011: Rhapsody announced remixed and remastered social Web experience

9/22/2011: Rhapsody launches in Facebook Music

10/3/2011: Rhapsody announces acquisition of Napster

12/7/2011: Rhapsody celebrates its 10-year anniversary with a concert with Built to Spill in Seattle

12/22/2011: Rhapsody surpasses one million paying subscriber milestone
Rhapsody is currently able to be experienced on apps on over 60 unique devices, this year also marking the first time playback was bigger for non-PC than for a PC, 40 percent of this being mobile. It's time for the future of music to continue through battle! Let the streaming music wars continue!