Rhapsody launches new Android app called SongMatch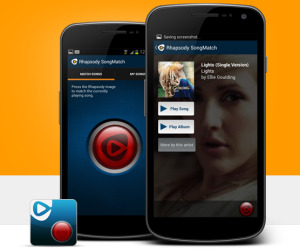 Rhapsody has announced the launch of a new app for Android users that aims to make music discovery more fun and convenient. The new app is called Rhapsody SongMatch and it is available for free. The app is intended to allow music listeners to discover music with a single click.
The app uses your Android smartphone to listen to a song that's currently playing in the background, on TV, in your car, or wherever else you may hear music. The app takes what it can hear and identifies the artist, song name, and album. Uses of the app can then store and share that information with others.
One the best things about this music discovery app is that anyone can use it even if they don't have a Rhapsody subscription. However, users of the app who do have a Rhapsody subscription get even more integration and features. When you use the SongMatch app with your Rhapsody subscription, it will link you to more music by the artist and you can use it download full tracks and investigate the album.
People with Rhapsody subscriptions can also find similar artists and look at other music by the artist. All songs discovered using the app are stored and saved as a playlist for future access. The app also allows non-Rhapsody subscribers to start a free trial.