RHA SA-850, SA-500 and MA-350 Review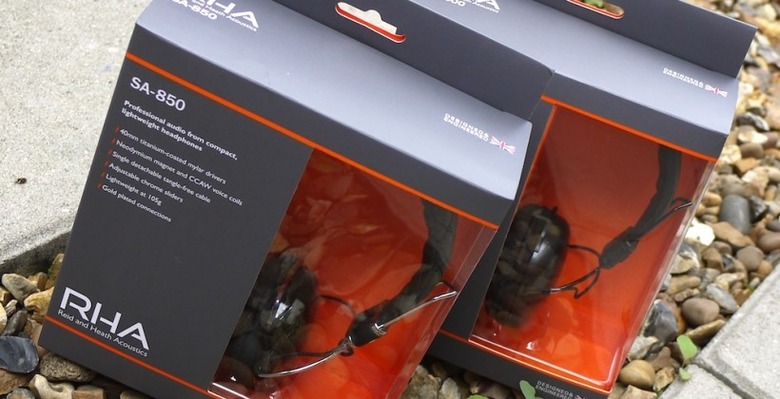 For years, canny music-lovers have known that to get the best from their PMP it's sensible to junk the bundled earphones and invest in some after-market alternatives. That can be an expensive route to take, however, especially if you've just splashed out on the latest iPod touch, and so the entry- to mid-range headphone market has flourished. Into that fray steps RHA, with three models – the SA-850 and SA-500 headphones, and MA-350 earphones – that claim to deliver audiophile-pleasing sound without maiming your wallet. Check out the full SlashGear review after the cut.
RHA is the audio arm of the Reid and Heath Group, a Glasgow, UK based headphones start-up. The promise is pro-grade audio with affordable price tags, and indeed the three models that have graced the SlashGear test bench all come in at under £50/$82.
RHA SA-850
The SA-850 headphones sit at the top of RHA's new range, though at £49.95 ($82) they're an affordable flagship. The company has spared no hyperbole, as you'd expect, and so they get 40mm titanium-coated mylar drivers with neodymium magnets and CCAW coils, adding up to a 16-22,000Hz frequency range, 113dB sensitivity and 32ohms impedance.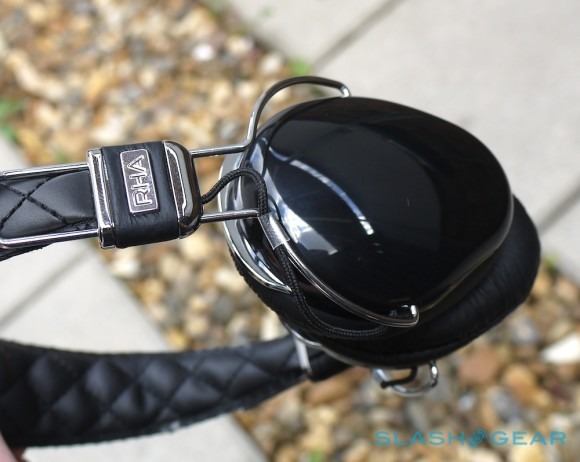 The earcups themselves are compact but eye-catching, thanks to gloss-finish casings, chrome mounts – within which they rotate but don't swivel – and a leather-effect headband that has ben liberally stitched as though the seats on a classic sportscar. RHA has finished things off with a detachable, fabric-braided 1.2m cable (with gold connectors) that does an excellent job of avoiding tangles and is easy to unknot.
Unfortunately, despite the rotating earcups, we had some problems getting an entirely comfortable fit. Although there's plenty of scope to twist them down, the earcups simply wouldn't rotate upward as far as we'd have liked, because of the – seemingly intentional – design of the hinge itself. That left the headphones failing to sit evenly on our ears, and proved somewhat uncomfortable after extended use. If you have a broader head you probably won't have the same issue, though we wouldn't say we were unnaturally narrow-faced.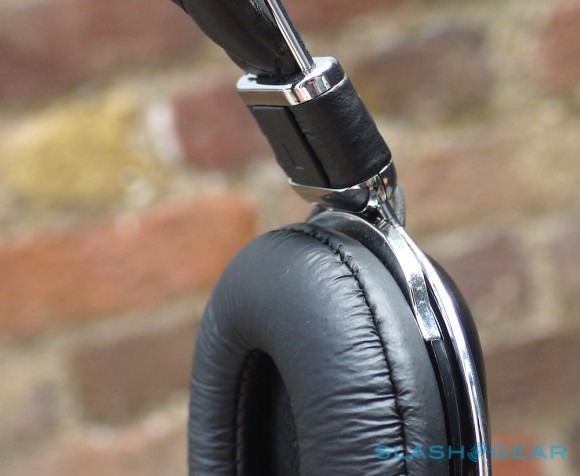 It's a shame, because with a decent fit the SA-850 produce a solid sound, despite the price tag. Bass is thoroughly evident and sturdy, managing a powerful thump without losing definition, while the mids and top end are clean and reasonably crisp. We might be tempted to up our budget if we listened primarily to vocal or string-heavy tracks, seeing as the SA-850's lack a little of the sparkle more expensive cans manage, but there's a healthy dollop of twang from electric guitars and dance or rock aficionados will find plenty to please them.
RHA SA-500
The SA-500's slot into the middle of RHA's traditional headphone range (the SA-200 are the entry-level model, which we didn't have to review) but, at £34.95 ($57), they're priced more like budget cans from rival firms. At first glance they're very similar to the SA-850 set, but closer examination shows the glossy earcup covers have been replaced with matte, the chrome trim is missing and the headband is more discrete without the stitched quilting pattern.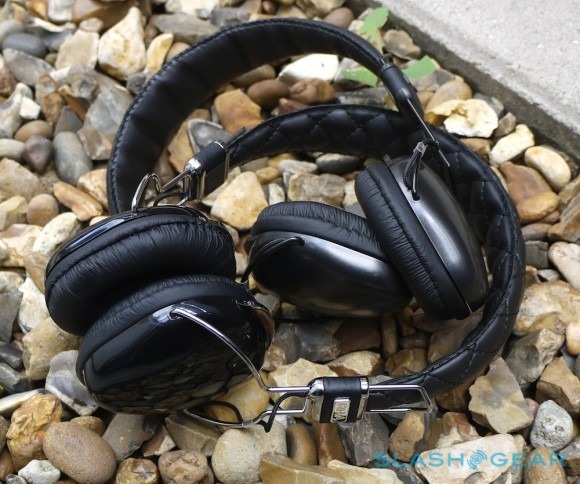 40mm mylar drivers are used, as in the more expensive set, but they lose out on the titanium coating. Perhaps more worrying to the bass-heads among us, the frequency range has been curtailed somewhat, spanning 20-20,000Hz. You still get the fabric-braided cable, however, and the somewhat frustrating earcup design that lacks swivel exactly where we'd like it.
The shortened bottom end has little impact on what are still some bass-friendly headphones, with the SA-500's still more than capable of drilling through your ears with a slap of well-timed lower frequencies. In side-by-side comparison with the SA-850's a little muddying of the mid-range becomes apparently – those twangy guitars lose a little of their definition and luster – but altogether they're still miles ahead of the dreary bundled headphones most PMPs are supplied with.
RHA MA-350
RHA only has a single set of in-ear earphones in its range, but don't assume they're an afterthought. The distinctive shape – which reminds us a little of a B&O speaker, with its arching aluminum cone – is apparently based upon "the aerophonic design of a trumpet's bell" while the fabric-braided (non-detachable) cable and gold-plated connectors are carried over from the headphone line.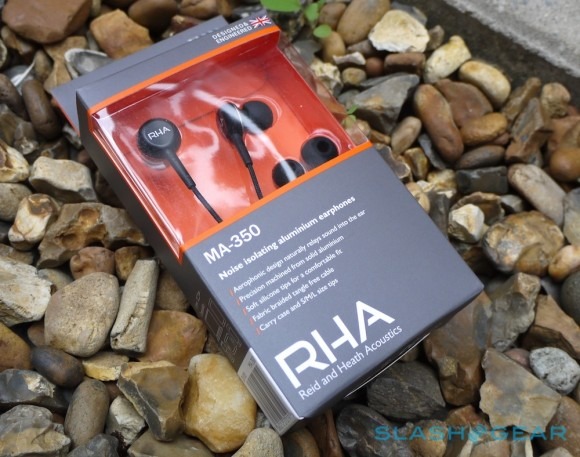 You get a fair amount for your £29.95 ($49): the earphones, a soft carry case for them, and three sizes of silicone tip to suit different scales of ear. The latter may not be bristling in flanges and moldings like some tips we've seen, but they slot into the ear and grip with no issues, even while jogging.
Given the price, we were cautious of expecting too much from the MA-350's; happily the cut-price earphones proved us wrong. We're not sure whether the trumpet-styling adds to it, but the sound has a decent slug of bass that undercuts a full-bodied midrange and some neatly crisp treble. Pitted against more expensive in-ear options and the RHA's understandably come off worse, but what's impressive is how well the sound from the MA-350's sits together. It's a very natural, listenable audio, without any of the imbalance that could end up showing up shortcomings elsewhere.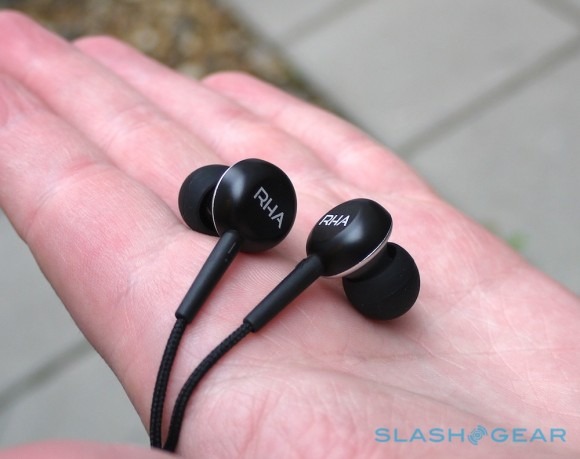 Wrap-Up
We've been stung before by low-price headphones that promise the world but deliver audio that sounds like it's been delivered through an echoey bucket. Happily, the RHA trio go a long way in restoring our faith. Budget needn't mean uninspiring and, when judged against the sticker price on any of the three models, it's tough not to be impressed by what music they can produce.
Our lingering concern about the SA-850 and SA-500 headphones is in the fit, not the function. Obviously that's a subjective element; if you can try them on before you buy, we'd recommend it. Ironically the cheapest model, the MA-350, is perhaps the most successful when you take into account how little is being asked for them.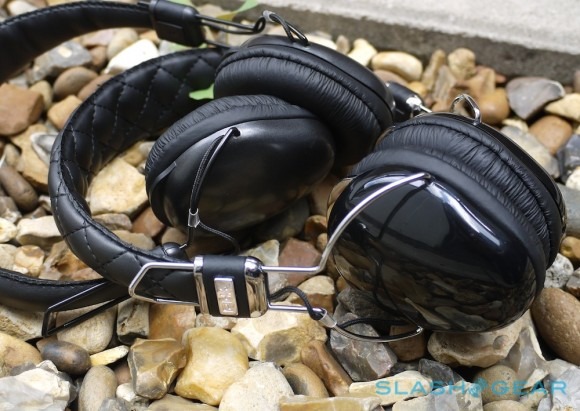 The budget headphone segment is a hotly contested one, difficult to break into when Sennheiser, Sony and others have huge economy of scale and coveted shelf space at retailers. What's clear, though, is that there's a big improvement to be had by upgrading the bundled earphones that come with a new phone or iPod with a set of aftermarket alternatives. Fit quibbles aside, each of the RHA options offer a significant step up in musicality for the equivalent of a couple of albums (if, that is, anybody still buys those).