Revolving Spice Rack - Spicing it up with Kamenstein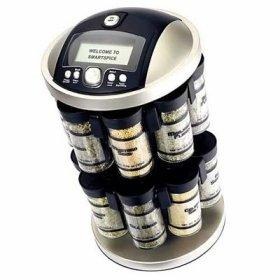 The spice rack is one kitchen commodity that seemed unchangeable. Take a rack, add spices and you're done. However, Kamenstein has brought this primitive item into the future with its Digital Spice Rack.
That is to say it not only comes with 16 spices but with several handy tools to make your cooking experience more efficient. It comes with a timer which eliminates some counter space, however small that might be, and a cookbook. You can keep all your recipes safely stored in the portable module and the LCD screen will display the full recipe for your benefit, whether using it in the kitchen or shopping for ingredients at the store.
It's no mystery to figure out just how useful this item is going to be. With the holidays just around the corner the Digital Spice Rack is sure to make a great gift, and at $65 it's affordable too.
Revolving Spice Rack Digitally Stores Your Recipes [via Luxury Housing Trends]