Revo Unveils New K2 Docking Station For iPad And iPhone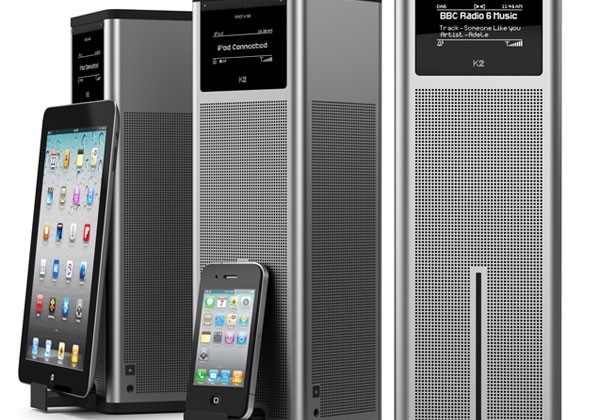 Revo has announced that it has a new docking station for dockable iOS devices like the iPhone, iPod touch, and iPad. The docking station is a tower design that looks very nice and is called the K2. All of the controls are on the top of the station. The K2 is made from aluminum and rubber and supports a variety of radio formats as well.
The device supports DAB, DAB+, FM, and internet radio. It also has full audio and video playback from the iPhone and other devices and supports online music from Last.fm. You can also connect the K2 to your PC or Mac and stream music wirelessly. The hardware inside the device will produce some impressive 40W sound and uses four neodymium Balance Mode Radiator speaker drivers and dual Class-D amps.
The K2 uses DSP tech to optimize sound quality and allow sound to come out of the small dock that sounds like it is being produced by a larger device. The design of the hardware inside allows for almost 360-degrees of sound dispersal. The front screen of the dock has an OLED display and a motorized dock for the Apple devices slides out of the front. The rear has connections for stereo RCA, digital optical out, and Apple video out along with a 3.5mm headphone port.