Revo DOMINO DAB+, Last.fm and internet radio iPod dock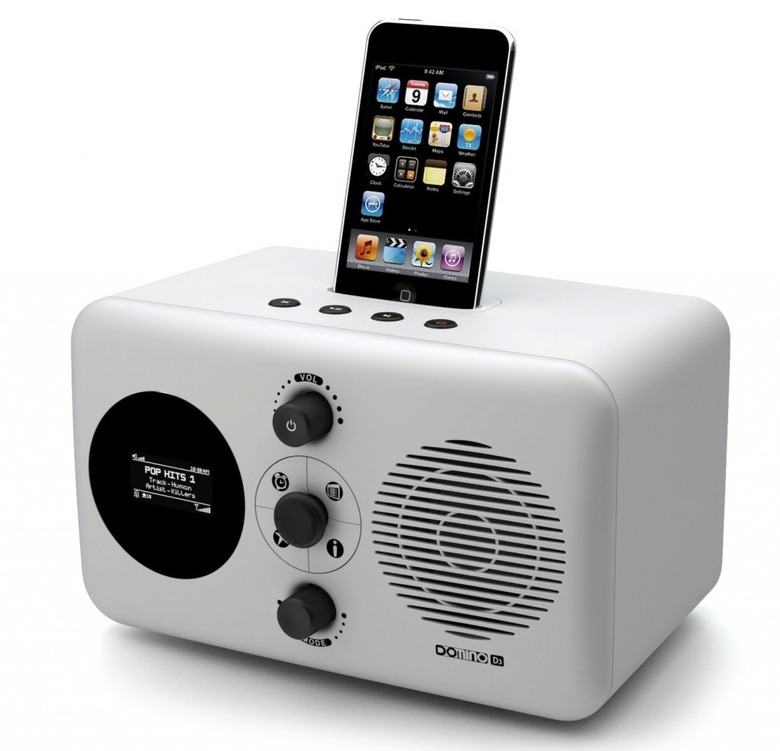 UK radio manufacturer
have announced their latest model, the DOMINO D3, a DAB/DAB+ digital radio with integrated iPod/iPhone dock and internet radio streaming.  The DOMINO D3 also supports Last.fm streaming, and the whole thing has a soft rubber coating that, while stopping short of making it waterproof, at least does make it fetishistically touchable.
A joystick and small OLED display are used for navigation and control, and Revo have used NXT "Balanced Radiator" speaker technology for sound that, they claim, belies the compact nature of the D3 itself.  There's also an FM radio with RDS and network streaming.
The Revo DOMINO D3 will be available from November 1st, priced at £169.95 ($271); it comes with a 30 day trial of Last.fm, following which there's a monthly subscription for the service (£3/$4.78).  Two other models in the DOMINO range, the D1 and D2, are also launching, the former having DAB/DAB+ and an iPod dock, and the latter adding in WiFi; they'll be £129.95 ($207) and £149.95 ($239) respectively.
Press Release:
Revo announces DOMINO multi-format digital radio with iPod/iPhone Docking and Last.fm

Lanark, Scotland, 5th October 2009: Revo's DOMINO D3 leads a new generation of connected digital radio devices that combine multi-format radio reception, iPod and iPhone connectivity, audio streaming and access to a variety of premium online music services including Last.fm.

Visually, DOMINO D3 is a sympathetic blend of contemporary styling and cutting edge technology. Soft edges and continuous curves meet bold design elements to create a timeless and striking form. A wonderfully tactile rubberised coating adds the finishing touch to this instantly likeable design.

At DOMINO D3's heart is an innovative joystick-based control system, enabling the user to quickly and easily navigate around the radio's many advanced features.

Completing the hardware picture is the inclusion of a graphical OLED display, and high performance digital audio courtesy of NXT's patented 'Balanced Radiator' loudspeaker technology.

DOMINO D3 is capable of receiving a full range of digital radio standards including DAB, DAB+ and internet radio – as well as conventional FM radio with RDS. DOMINO will also wirelessly stream digital music files from any 'connected' PC or Apple Mac. Additionally, DOMINO D3 includes an integrated iPod dock and is one of only a small number of digital radios that is certified by Apple for use with both the iPod and iPhone.

In addition to its terrestrial and internet radio capabilities, DOMINO D3 will also provide access to online music service Last.fm*. Simply choose an artist or genre and let Last.fm build the perfect playlist from its library of 5 million tracks – unique to the user, and fresh every time. Alternatively, an existing Last.fm profile can be used.

DOMINO D3 includes a free 30 day Last.fm trial subscription, thereafter a £3.00 per month subscription charge applies.

Owen Parry, Last.fm Product Manager said "We're delighted that Revo has included Last.fm functionality as a standard feature on its new DOMINO radio, and the addition of a free 30 day trial subscription makes it easy for users to explore and enjoy music through Last.fm, right out of the box."

DOMINO D3 is part of a broader three model range as follows:

DOMINO D1 – A dedicated DAB/DAB+ model that also includes FM coverage and iPod & iPhone docking capabilities.

DOMINO D2 – A Wi-Fi internet radio model with audio streaming, FM, iPod & iPhone docking and Last.fm access.

DOMINO D3 has an SRP of £169.95, while the D1 and D2 models are priced at £129.95 and £149.95 respectively. All three models are available in a choice of black or white finishes.

The DOMINO range goes on sale on the 1st of November from branches of John Lewis, Marks and Spencer and the usual REVO stockists. Alternatively, visit www.revo.co.uk

REVO will be exhibiting at the Hong Kong Electronics Fair from the 13th until the 16th of October 2009. REVO can be found in hall 1, stand number 1EC08/1ED07.