Review: TiVo Edge DVR with voice remote control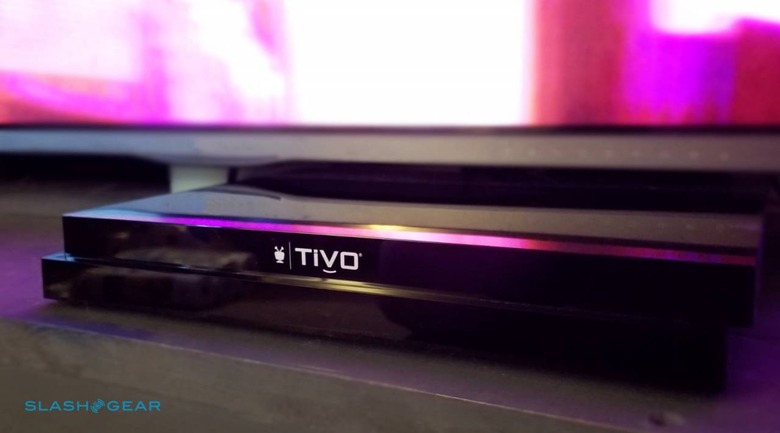 Earlier this year, TiVo introduced its new Edge DVR, a model featuring a new angular design and the same type of thick remote control included with the older Bolt DVR model. The new Edge DVR packs a large number of features, combining live television with popular streaming apps and enough storage for hundreds of hours of high-definition TV. Does the Edge keep TiVo relevant in a world where people are increasingly ditching cable? The answer is complicated.
TiVo has eliminated the bendy, curved design it used with the Bolt VOX and Bolt OTA models, instead electing to use a far more conventional and practical flat rectangular shape for its new Edge model. This design makes it easier to slot the DVR in among the other boxes and consoles one may own, as well as making it possible to slide the box underneath the TV itself. That's a welcome decision correcting one of the only big complaints we had about the Bolt model.
The design is what I'd dare call elegant; the top half of the device is offset from the bottom half, giving it the appearance of two slim, stacked devices rather than one larger box. The glossy coating gives the TiVo Edge a smooth glass appearance that reflects the light from one's entertainment system, depending on where it is positioned. A small white TiVo logo is stamped on the front of the box.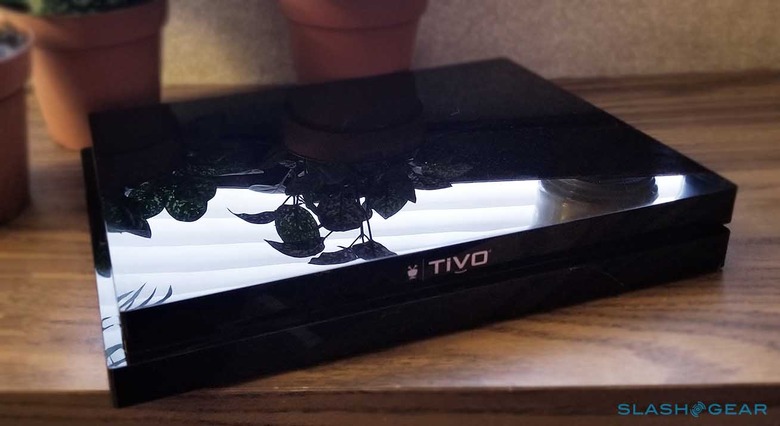 The TiVo Edge's remote control is very similar to the one offered with the Bolt DVR models; it is substantially thick, fits comfortably in one's hand, and has enough buttons to drive one's elderly relatives crazy. The remote control features backlit keys that slowly glow to life, illuminating for nighttime use. As well, a built-in alarm makes it possible to find the remote when it is misplaced.
Overall, physically setting up the box is incredibly straightforward: put the box where you want it, plug it into the wall, connect it to your display using the included HDMI cable, and then connect either a TV antenna or cable/satellite box, depending on which model you purchased.
Actually turning on and setting up the box is a more involved — though not particularly complicated — matter. Anyone who has previously set up a TiVo DVR will know exactly what to expect. You'll be guided through the process by on-screen prompts; of note, TiVo requires its users to have a subscription.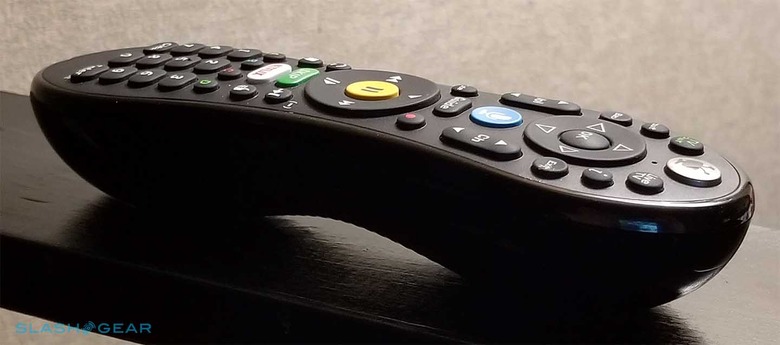 TiVo Edge (cable version) customers can choose the $14.99/month plan, which requires an annual commitment, plus there's the option of paying $149.99 for an entire year. As well, dedicated TiVo customers can choose the 'All-In' plan for $549.99 USD. That, of course, is on top of the box's $399.99 USD (cable edition) price tag, making the transition to TiVo's platform a fairly pricey endeavor.
As with the Bolt, TiVo has packed a number of streaming apps into its new model, but there's a difference: you get access to more services. As we noted in our Bolt review, that model appeals mostly to people who need a DVR, not a streaming device. The Edge model takes things up a notch by offering access to all of the popular platforms and a number of somewhat lesser services, including Netflix, Hulu, Prime Video, YouTube, Pandora, HBO Go, and more.
In addition, the six tuners packed into the Edge model means users can record up to half a dozen shows and movies at the same time. That, combined with the ample storage space, is where the model shines. Likewise, TiVo includes Dolby Vision HDR support with the Edge model.
Users can make sure each family member's favorite show is recorded even if they're on at the same time. The recorded content can be accessed on other TVs in the house using the TiVo Mini and Mini VOX boxes, enabling customers to set up a whole-home entertainment system on the TiVo platform.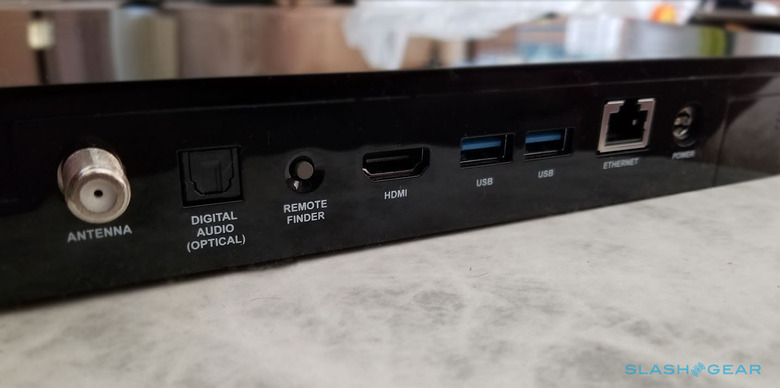 The model includes a number of other notable features, including mobile app support for viewing and managing content, wireless in addition to Ethernet connectivity, support for HDR content, a CableCARD slot, and support for optical audio.
TiVo's interface is easy to navigate. Content is split up into categories with streaming apps isolated in their own section. The box provides direct access to live TV and a proper channel guide; users can browse content, schedule recordings, manage existing videos, and more. The platform is every bit as robust as a cable or satellite provider's own boxes; there's no shortage of recommendations, popular content, show descriptions, and similar.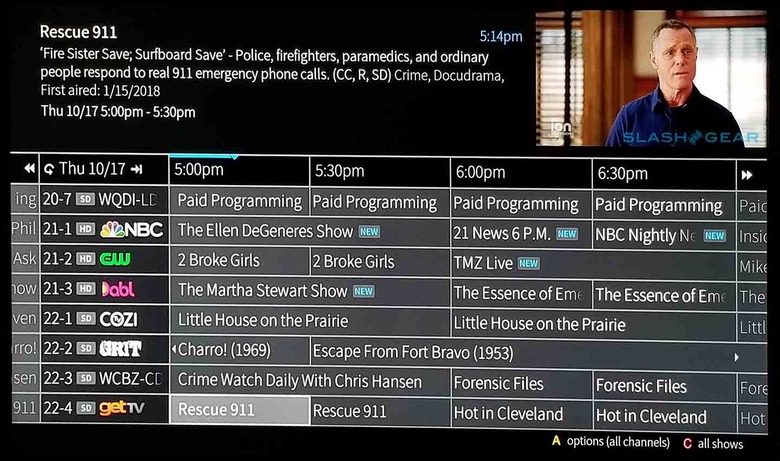 For people who subscribe to a couple of big streaming services and use them casually to augment their live television experience, the TiVo Edge is more than adequate as an all-in-one entertainment device. For cord-cutters who are more heavily dependent on streaming services, the TiVo Edge may not satisfy all of their streaming needs.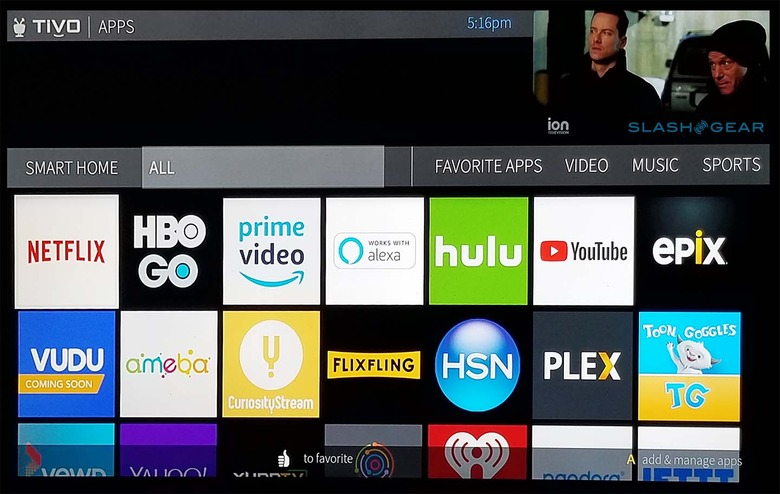 More fringe services are missing from the platform, which is to be expected. If you're one of the users who regularly fires up less popular streaming services, you'll want to have a Chromecast, Roku, Fire TV, or other similar devices on standby for when the Edge falls short. Whether the Edge is worth the cost entirely depends on how the customer typically accesses their favorite media.
TECH SPECS
Ports:

- Coaxial

- Optical audio-out

- Remote finder

- HDMI 2.0

- USB 3.0 ports

- Ethernet

- CableCARD slot

Dimensions: 10.6 x 8 x 1.5inWeight: 2.4lbsRecording: Up to 300 HD hoursStorage: 2TBVideo: HDR10, HLG, and Dolby VisionConnectivity: WiFi 802.11ac 4x4DBS: YesCompatibility:

- TiVo Mini

- TiVo Mini VOX

- Remote viewing from other TiVo DVRs

- Android and iOS
Wrap-up
The TiVo Edge is a suitable upgrade from the Bolt models, bringing with it many of the same features, but with an updated design that loses the obnoxious curve, adds additional support for streaming apps, and includes Dolby Vision HDR and an extra gigabyte of memory.
If you're an existing Bolt DVR owner, you likely won't see much of a reason to shell out for the latest model. Faithful TiVo customers still using older models may want to consider the upgrade, however, as there's a lot to like about the Edge DVR.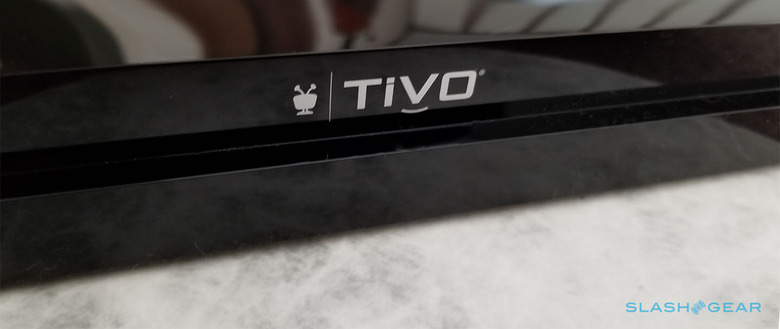 The sticking point remains the same, however: the high cost for the DVR combined with the monthly service fee makes TiVo's platform one of the pricier home entertainment systems on the market, particularly if you've looking to pick up some TiVo Mini units for other TVs in the home.
Customers who primarily need a robust option for recording live TV will no doubt appreciate the Edge and TiVo's extensive DVR options, but others who primarily stream and only want to save the occasional sports game from their antenna would be well advised to look into cheaper alternatives.
The TiVo Edge is available now in cable and antenna models for $399.99 USD and $349.99 USD, respectively.