Review: Logitech Z337 Bold Sound With Bluetooth 2.1 Speaker System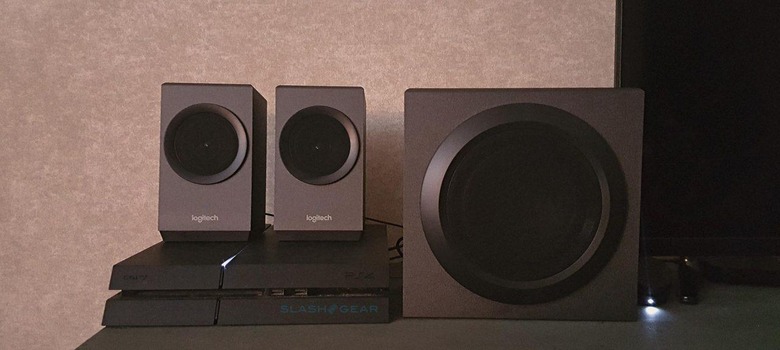 Consumers have two primary options for high-quality home audio: sound bars and surround sound speaker systems. Sound bars have their place, but tend to be television-centric with a highly directional design. Surround sound systems are the opposite, shedding the directional limitation by dispersing the audio across multiple speakers commonly placed on different sides of a room. One of the latest consumer-level sound systems to hit the market is Logitech's Z337 Bold Sound with Bluetooth speaker system, but is it worthy of your entertainment (or computer) room?
Logitech's new Bold Sound system has three components: two small right and left satellite speakers and a large subwoofer. Assembling the system takes three or four minutes — you'll spend more time figuring out where to put the speakers — and simply involves plugging the two small speakers into the subwoofer. A 3.5mm audio cable connects your television or desktop computer to the subwoofer; you can also use an RCA cable for devices that require it.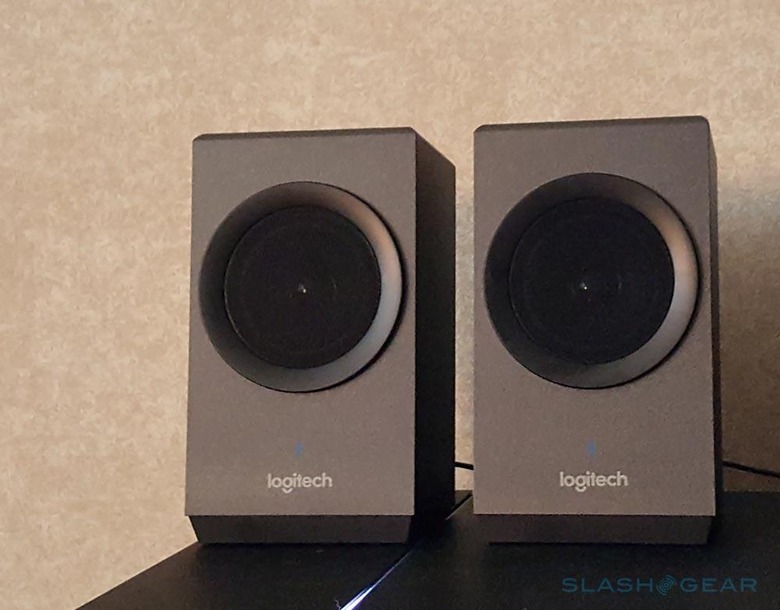 The inclusion of Bluetooth enables users to connect a smartphone or other device to the sound system wirelessly, as well. This pairing is made possible via a physical Bluetooth button located on a wired volume knob (connected to the subwoofer). Press and hold the Bluetooth button until it starts flashing, then pairing with the speakers can be done via your device's Bluetooth menu.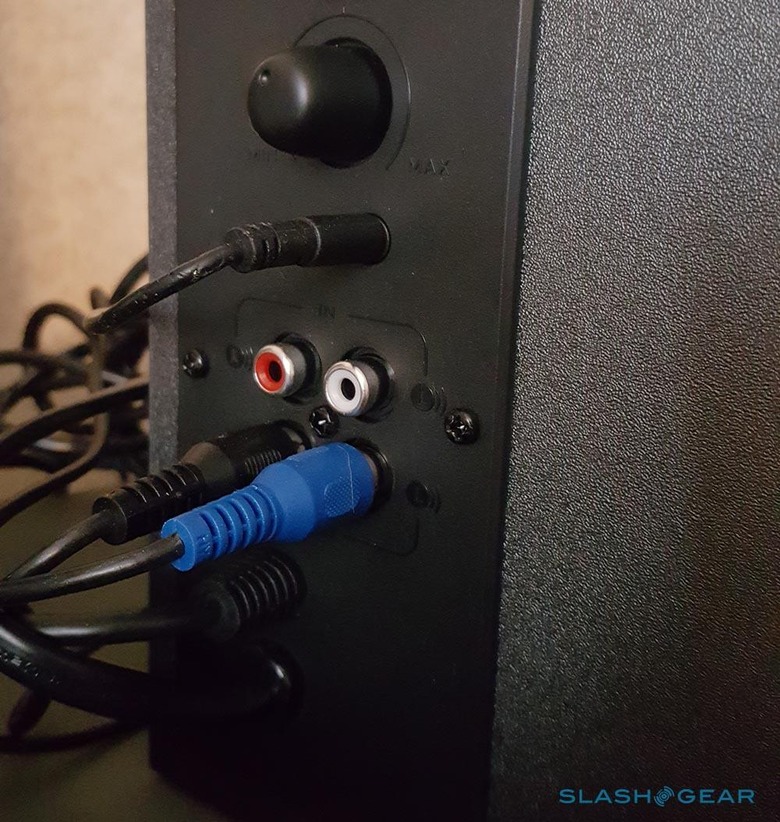 The volume knob has an easily-accessible 3.5mm port for plugging in wired headphones. Logitech calls this the 'control knob,' and while it is attached to a decently long cable, it does pose fairly substantial limitations (more on this later). Finally, there's a dedicated bass control dial on the back of the subwoofer for increasing or decreasing bass level.
As far as design goes, the Bold Sound speakers are modern but fairly minimalist with a decidedly dark design. The speaker bodies are a dark gray color while the fabric covering the speakers are black. The speakers and subwoofer are angular and on the large side, though not so large that you're likely to find them unwieldy.
Both speakers feature the Logitech logo in white, and both include a small Bluetooth logo. The design is not unappealing, but is very ordinary and something you're not likely to pay attention to — whether that's a good thing depends on your tastes, no doubt. Overall, the design is demure enough to blend well with a variety of entertainment setups.
Sound quality is very good, though it's important to remember that you're only given control over the bass. During times when the bass is kept at low levels (nighttime in an apartment, for example), the treble can feel a touch too high for my tastes — though, regardless, it is very balanced. The bass itself can be turned up to very powerful levels, and you won't feel it's lacking. Even when kept low, the bass is punchy and makes its appearance when needed; it would be best to describe it as very even-handed.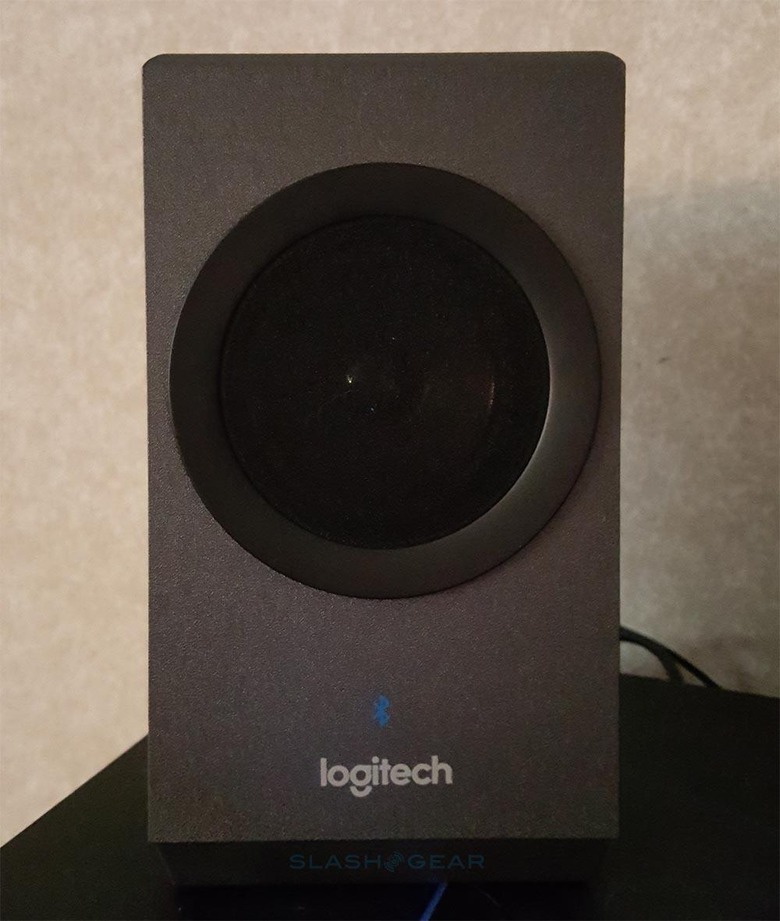 The only real complaint is the surprising lack of a remote control. This 2.1 system includes the wired control knob, yes, which could in some cases be positioned in a convenient place to adjust sound system audio while watching TV. Depending on where you place the subwoofer, you may not be able to reach the volume control knob without getting up. The big exception here is if you're using the speaker system with a desktop computer, in which case a remote control isn't necessary.
If you use the speakers as part of an entertainment system, you can use your television's remote to adjust the volume through the TV itself, which is fine, but there's no way to adjust the bass level without getting up and manually turning the knob on the back of the subwoofer. If you're the type to set the bass at a certain level and keep it there, this won't matter. On the other hand, if you frequently adjust the bass depending on time of day (common in living environments like apartments), this is an annoying oversight.
Wrap-up
Logitech's Bold Sound Z337 2.1 speaker system is priced at $99.99 USD, something that could be considered low-cost as far as surround sound systems are considered and a touch pricey amongst desktop computer speakers. At this price point, the Bold Sound system is generally a good deal regardless
The sound quality is better than what you'd get with just about any television, the design does not look cheap, and the subwoofer is quite powerful. It's hard to imagine anyone being disappointed with the audio quality — at least at this price point — but the lack of a remote control may be another matter if you plan to use the speakers with a TV.