Review: Lenovo YOGA 920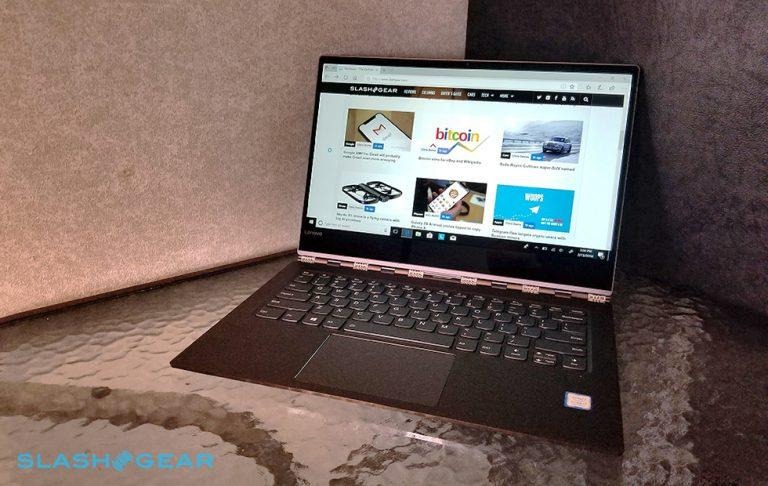 EDITORS' RATING: 9/10
Lenovo is back with one of its most attractive laptops to date, the YOGA 920. This model is slim, lightweight, with a design nearing luxury. The YOGA 920 isn't just a pretty face, though, as Lenovo has packed some of the latest and greatest Intel hardware into this flexible notebook. How does it compare to other ultrabooks? Read on to find out!
Hardware
The YOGA 920 is an impressive laptop straight out of the box. This model definitely falls into the ultrabook category and can be comfortably held with one hand. The all-metal body has a luxurious feel, while the bronze color in particular offers a striking shade atypical among laptops. The lid and underside have a slightly textured matte finish, while the edges are sharply angled with a shiny brushed metal look.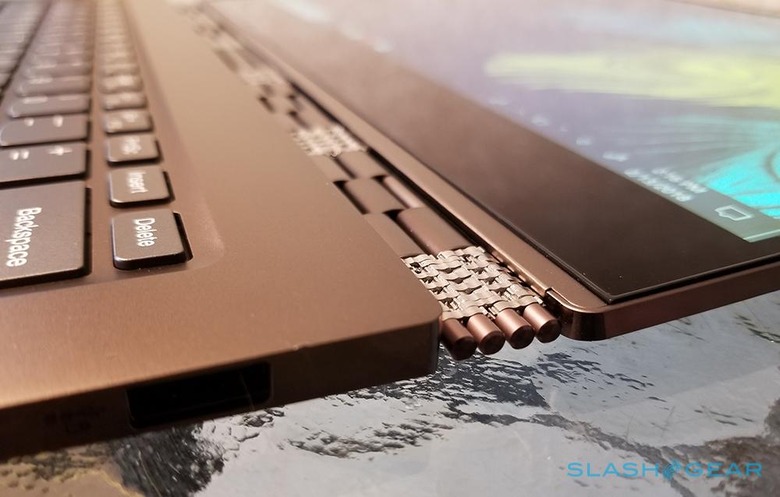 The inclusion of a watchband hinge automatically takes things to a new level, enabling users to fully open the laptop, position it at a "tent" angle, or even fold the display all the way back so that you're left with a "tablet." As in past Lenovo models with the watchband hinge, the display opens smoothly and can be positioned at any angle.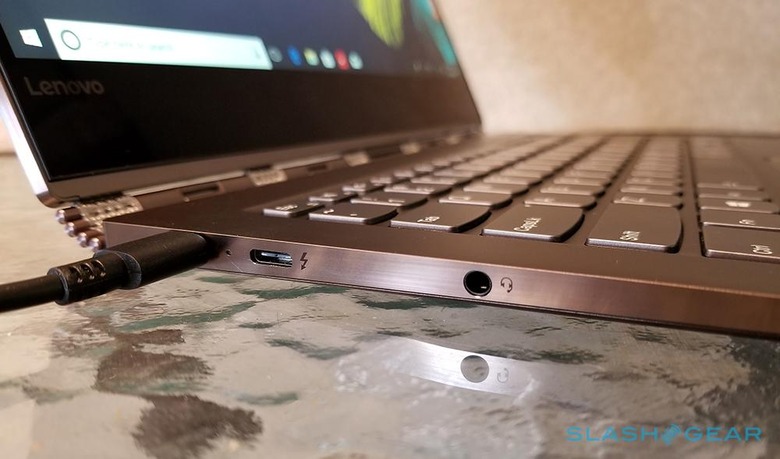 The laptop is very slim, particularly when the lid is open. As the image above shows, the side profile is barely wider than the width of the model's USB-C charging cable connector. This slim size is joined by a light weight that makes the YOGA 920 a comfortable travel companion.
That slim profile also makes the tablet mode very comfortable. That's great for someone who regularly reads in tablet mode or uses their laptop as a sketchbook. This is compared to chunkier laptops which are difficult or outright uncomfortable to use as a tablet.
Finally, as far as design goes, the keyboard is slightly recessed into the body; it features low-profile keys with just enough of an audible clicking sound to please finicky typists. The keyboard is very similar to the one found on the MacBook Air, the only big difference being the arrow keys.
TECH SPECS

Processor: Up to 8th Generation Intel® Core i7-8550U

Operating System:

- Windows 10 Home

- Windows 10 Pro

Display:

- 13.9" UHD (3840 x 2160) IPS Multitouch with integrated camera

- 13.9" FHD (1920 x 1080) IPS Multitouch with integrated camera

Graphics: Intel® UHD Graphics 620

Microphone / Webcam: 720p HD camera with dual array microphone

Memory: Up to 16GB DDR4 2400 MHz

Storage: Up to 1TB PCIe SSD

Battery:

- Up to 10.8 hours with UHD display

- Up to 15.5 hours with FHD display

Audio: Dolby Atmos (with headphones), 2 x JBL Speakers

Security: Fingerprint reader with Windows Hello

Ports:

- 1 x USB 3.0 with always-on charging

- 2 x USB C (Thunderbolt, PowerDelivery & DisplayPort)

- Combination audio/microphone jack

Wifi: Lenovo AC Wireless (2x2)

Bluetooth 4.1

Dimensions: 12.7" x 8.8" x 0.5"

Weight: Starting @ 3.02lbs

Colors: Platinum Silver, Bronze, Copper
Software & Performance
Users have a decent amount of choice when it comes to hardware with this model, chief among those choices being the option of up to an 8th-generation Intel Core i7-8550U processor. Performance will depend on your model's particular hardware; our review unit has a 1.8GHz Core i7-855U, 8GB of RAM, and Intel HD 620. Benchmarks are strong as a result; users will find the YOGA 920 more than capable of general computing and up to the task of somewhat more demanding things.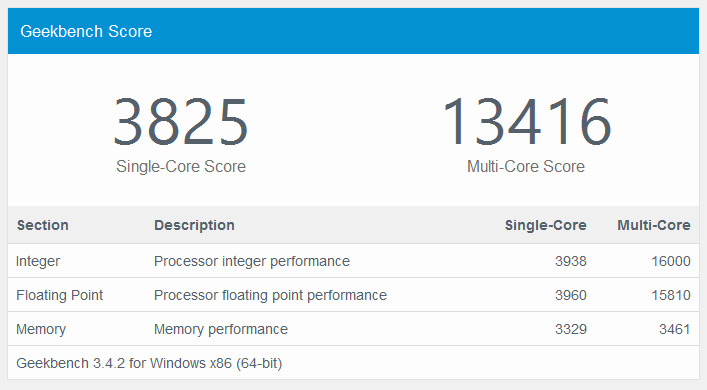 Users are given the choice of either Windows 10 Home or Windows 10 Pro. General performance was great across various usage scenarios, including watching movies, office-related tasks, multitasking including a couple dozen open browser tabs, and more. Battery life depends on usage and hardware configuration; we were able to get through a full work day with a few hours of charge to spare.
What we like
The YOGA 920 is a beautiful laptop and there's a lot to like about it. The display takes up most of the lid's real estate, so there isn't much there as far as bezels go. The display is bright and crisp; the touchscreen is very responsive. Similarly responsive is the trackpad, which never gave me any issues at any point. A light tap is enough to register a click, but there weren't any problems with accidental "clicks" or skipping.
I was able to transition from a MacBook's keyboard to the YOGA 920's low-profile keyboard seamlessly, no adjustments to typing style or spacing necessary. The model's audio quality is also impressive, at least for a laptop, though there is slight muffling due to the speakers' positions on the bottom edges of the laptop. Lenovo included a standard 3.5mm audio jack for users still fond of wired headphones.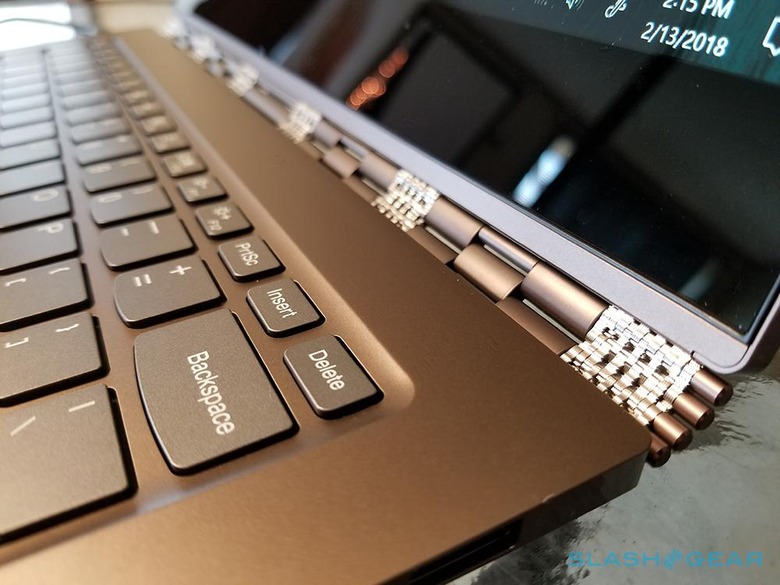 The overall design is attractive without calling too much attention to itself. The finer details, like brushed metal edges, give it that premium feel lacking in some competing models. The YOGA 920 features Lenovo's watchband hinge, which is always a great addition to a laptop. The hinge is perfectly smooth, able to hold the lid at any angle including folded back all the way into Tablet Mode.
Finally, the YOGA 920 has a stylus that enables users to draw or write when the laptop is in Tablet Mode (or regular laptop mode, though that is difficult). The stylus works exactly as we'd expect, is capable of drawing fine lines when light pressure is used, and is a great accessory to have.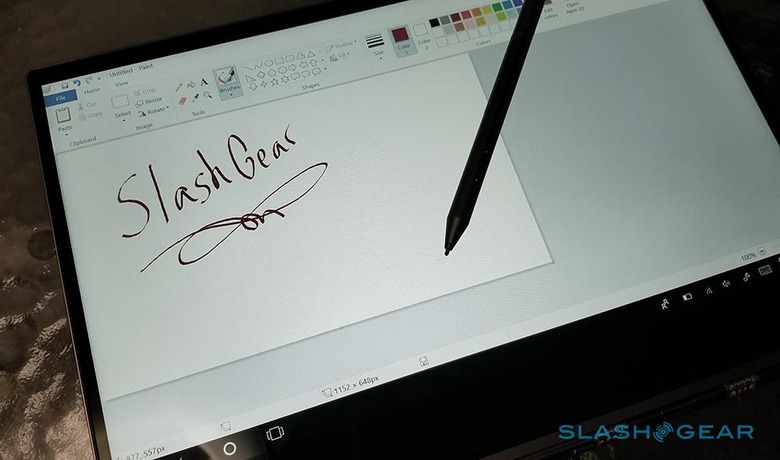 Issues
I'm tempted to call the YOGA 920 a perfect ultrabook, but there was one unfortunate issue that presents itself when using the laptop anywhere other than a flat surface: the two front corners. Though the corners are rounded in the transition from side edge to front edge, the upper side of those edges meet the flat surface around the keyboard at a perfect 90-degree angle. There's very, very little rounding on that edge, which is fine on the front and side, but not for the corners themselves.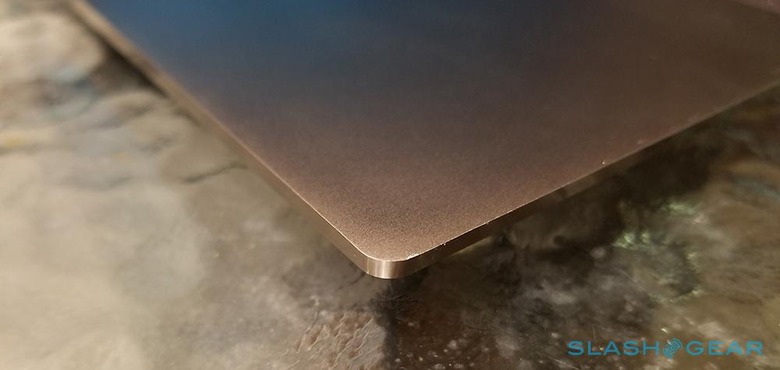 The two front corners are very close to being outright sharp against the skin. Any time I use the laptop at an angle where my forearms may press against the corners (such as typing while the laptop rests against my knee), the experience is borderline painful. Were this my everyday laptop, I'd be tempted to round off the YOGA's corners with a nail file.
Wrap-up
The YOGA 920 is one of Lenovo's finest flexible laptops to date and is an excellent choice for someone who needs an ultrabook that packs the latest Intel hardware. The combination of a light weight, excellent display, various hardware options, and an attractive design makes this model a winner. Available from Lenovo now starting at $1,199 USD.