Review: Lenovo W550s -- an ultraportable workstation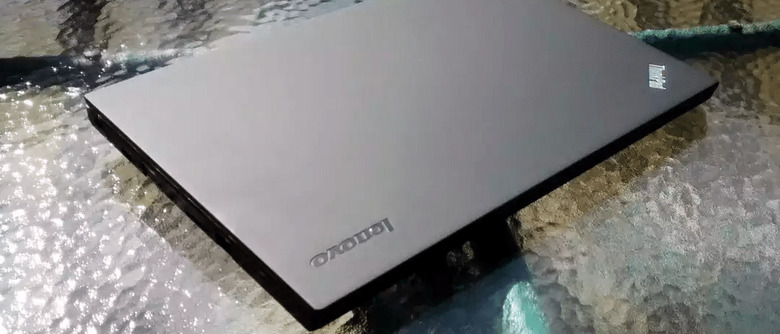 Lenovo has been busy rolling out all manner of flexible, slim, and otherwise noteworthy laptops and tablets, but that doesn't mean it has turned a blind eye to one of its staple offerings: workstations. These laptops are designed for the demanding users among us, those who need a dedicated keypad for cranking out numbers, a large display, and hardware able to render animations or similar tasks. The W550s is no exception, but it comes with a twist: it is ultraportable, at least as far as workstations go, and it is surprisingly thin for all that it offers. Read our full SlashGear review for more!
Hardware
The W550s is a workstation, and as such it is larger than what you'd get from the, for example, Lenovo X1 Carbon. It also brings with it more power and more connectivity options, something needed by certain business users in some industries. As far as a workstation goes, however, the W550s is relatively light at 4.92lbs — you'll certainly notice it is in your bag, but it won't wreck your shoulder as was common in the relatively recent past.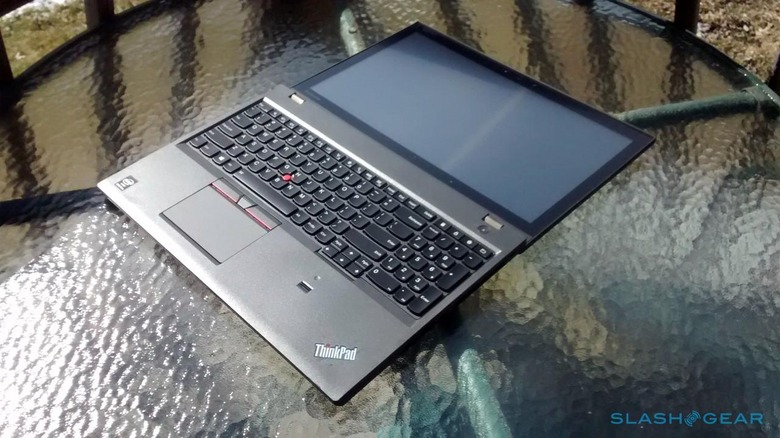 The style itself is like most other modern ThinkPads, with a slightly textured surface and near-black color, a red trackpoint in the keyboard and a with-buttons trackpad. There's a dedicated keypad, lending its usefulness for accountants and others who regularly peck out numbers, and the high-resolution display means it'll serve well for graphic designers, photographers, and other professionals in the visual professions.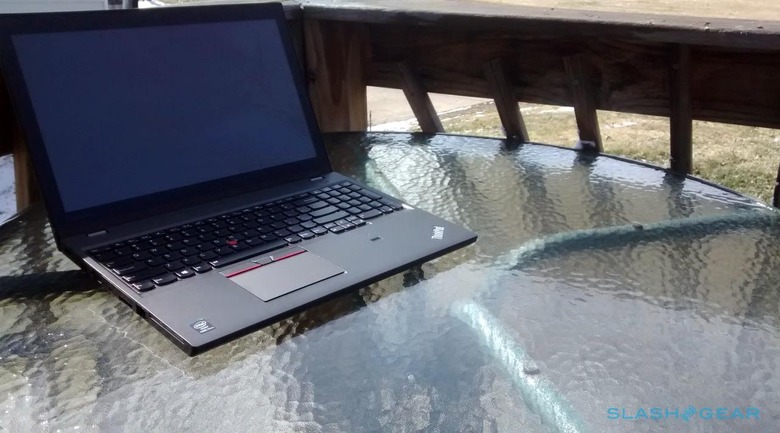 The W550s can be had with an Intel Core i7-5500U or an Intel Core i7-5600U processor, as well as Windows 7 Pro 64 or Windows 8.1 Pro 64. Graphics come from an NVIDIA K620M 2GB card, and there's support for up to 16GB of RAM. Users can select either an SSD up to 512GB of a 500GB HDD 7200rpm hard drive.
Two different display sizes are also available spanning a total of three options: a 15.6-inch offering with a Full HD resolution, as well as a 15.5-inch option available with a 2880 x 1620 resolution and a multi-touch option. There's a ThinkPad Precision keyboard with a backlight, as well.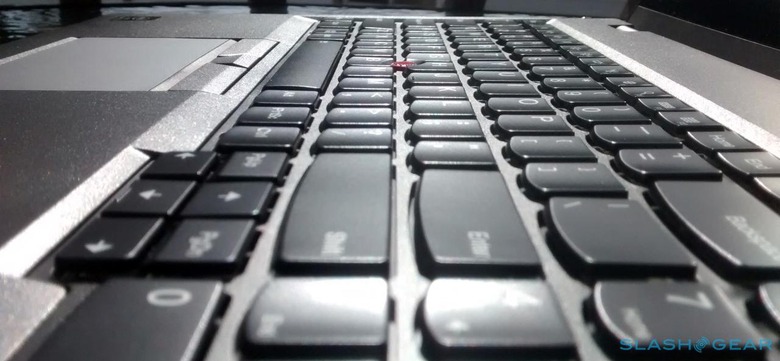 Connectivity includes integrated mobile broadband, Bluetooth 4.0, Intel 7265 AC/b/g/n dual-band WiFi (or just b/g/n WiFi, depending on which you select). Ports are numerous, including a trio of USB 3.o ports (one is always charging), a mini DisplayPort, RJ45 Ethernet, a 4-in-1 SD card reader, VGA, a combination audio jack, docking connector, and an optional Smart Card reader. The integrated webcam has a 720p resolution, and there's an embedded microphone.
There are a handful of battery options, as well, including a 3-cell front 44Whr option, 3-cell rear 23Whr, 6-cell rear 48Whr, and 6-cell rear high-capacity 72Whr offering. Your battery life will depend on what batteries you're utilizing, and the larger rear batteries obviously mean the back end of the laptop will be extended outward, increasing the machine's thickness. Up to 17 hours of run time can be had if you're using the 6-cell high capacity battery in the back in addition to the internal 3-cell battery.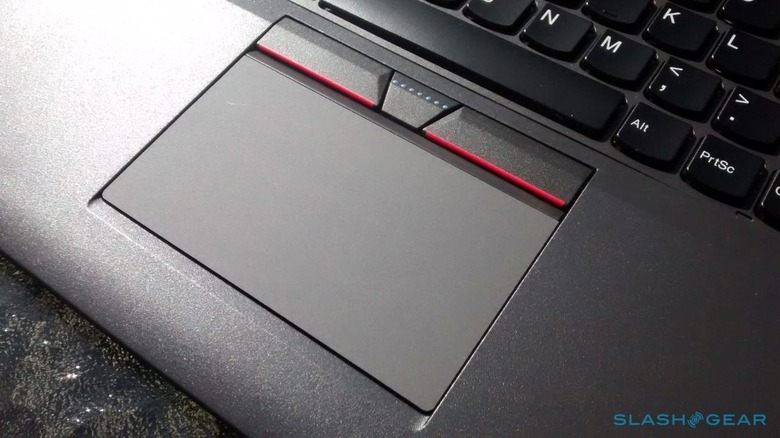 Software and Performance
The W550s meets MIL-grade durability specifications, and as such accidentally spilling your coffee on it or taking it out into cold weather won't spell its end. It is also tested to make sure it can hold up to frequent use over a long period of time — the maker tests opening/closing the lid 30,000 times, for example.
There's carbon fiber in the case material, which lends both the lighter weight the W550s enjoys as well as the durability. Lenovo also boasts that its ultraportable workstation features ISV-certification (independent software vendors). Likewise, it can do things like operate at an elevation of 15,000ft. and has even been tested with 28 days of exposure to "common fungus sources".
As far as operation goes, the W550s offers the power you'd expect given the Core i7 and NVIDIA hardware under the hood. We've some Geekbench benchmarks in the gallery below, which you can compare to other laptops in our Laptop Reviews portal.
Conclusion
The Lenovo W550s is a laptop for those who need the raw power of a workstation, but need it in a form factor that won't be an undue burden when on-the-go. In many ways it is similar to the W540 workstation we previously reviewed, but certainly thinner and lighter with a noticeable boost in the feel of the construction quality.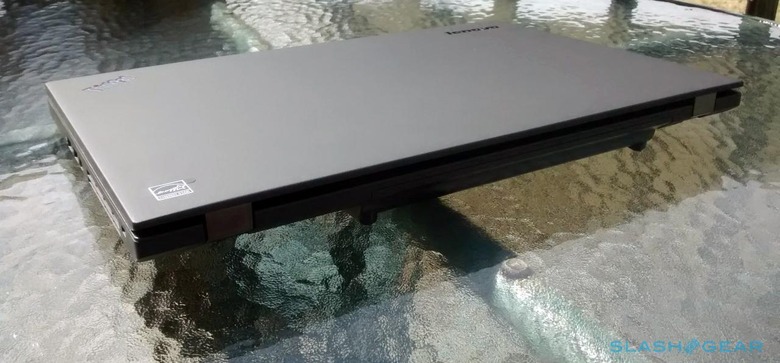 That's not to say the W540 isn't a durable machine, only that the W550s, when held in one's hands, feels more robust. The performance is spot-on for those with demanding needs, as well, and the battery life eclipses what you'd get from many competing workstation laptops. As such, if you need the level of power offered by the W550s, you can't go wrong with it. Prices start at $1,133.10.
Check out more Lenovo reviews in the timeline below!