Review: Lenovo Thinkpad Yoga 14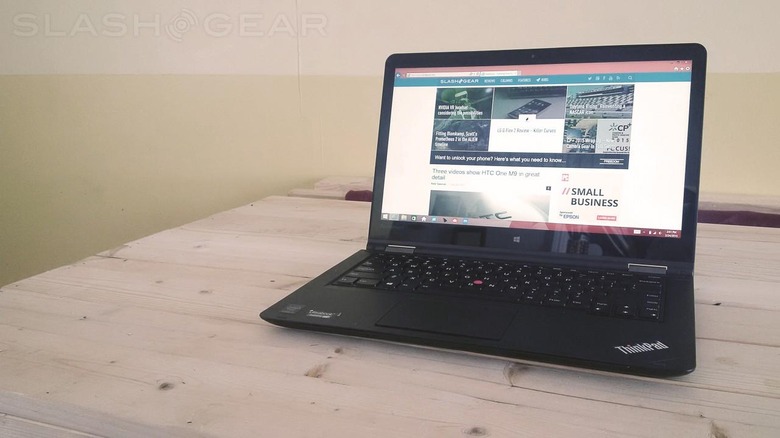 If you've seen one ThinkPad, you've seen them all. Such was a common opinion back when ThinkPads were IBM's heavy, obtrusive bricks, but as Lenovo has shown in recent years, times have changed and so has the brand. ThinkPads have retained their business-chic stylings, but have been updated with slim, sleek, and — more often than not — flexible bodies. The ThinkPad Yoga 14 is no exception; the laptop has all the markings of being a ThinkPad (including that beloved keyboard), as well as a modern and robust design that'll help it appeal to the newest generation of techies. Does it stand out enough among Lenovo's other recent ThinkPads to be worth the attention, however? Read our review to find out.
Hardware
The Lenovo ThinkPad Yoga 14 is the best of both worlds: it has the ThinkPad design and the Yoga flexibility, and the result is a laptop that can be positioned all over the place — including completely flat, "tented" backwards, and folded up into a tablet-like mode. This is nothing new when it comes to Lenovo's recent laptops, but it hasn't yet gotten old — this makes the laptop a more attractive option for those who don't want to tote around a laptop and a tablet, but find a typical laptop arrangement to be inadequate in certain settings.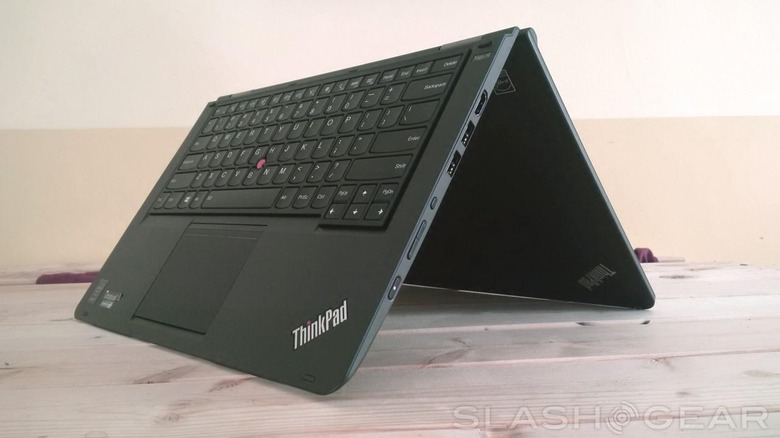 The ThinkPad Yoga 14 retains the same impressive level of smooth yet stiff operation as Lenovo's other bendy machines. Too often with these sort of flexible hinges, the display feels loose or otherwise vulnerable to an overly enthusiastic rotation. Lenovo's laptops don't suffer from this problem, and you won't worry about the hinges prematurely wearing out with every 360-degree rotation. Because the hinges hold their own so well, you can also set the laptop at just about any angle and it will hold steady (versus having to worry about it slipping open and tumbling down).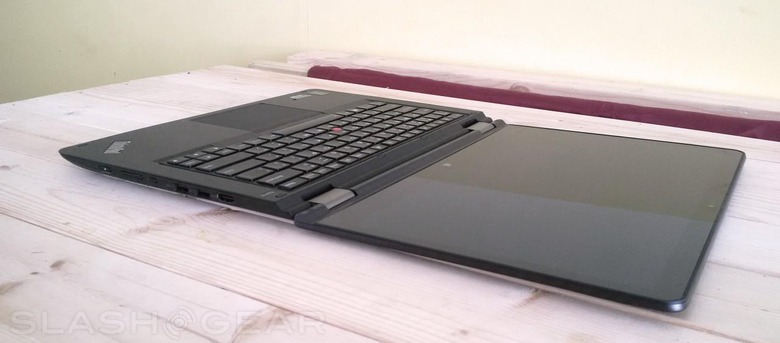 The level of durability ThinkPad users have come to expect is also included — there's a magnesium-alloy frame and Dragontail display, which is resistant to smudges and scratches. Joining the durability is support for OneLink/OneLink Pro Docking, and a Lift n' Lock keyboard that locks into place when the laptop is being used as a tablet (folded all the way open). The battery is flush with the system and gives about 8 hours of run time on a charge, give or take a bit depending on how you're using it.

Different hardware options are available, but as a general option, the laptop features a comfortable 14 FHD IPS LED display complemented by Intel Core i5-42U 1.70Ghz processor and an NVIDIA GeForce GT 840M 2GB graphics card. Memory comes in at 8GB, and there's a 1TB 5400rpm hard drive, which will meets the average user's needs. Networking comes via an Intel Dual Band Wireless-AC 7260 card (there's also Bluetooth 4.0). The system itself is loaded with Windows 8.1 64-bit.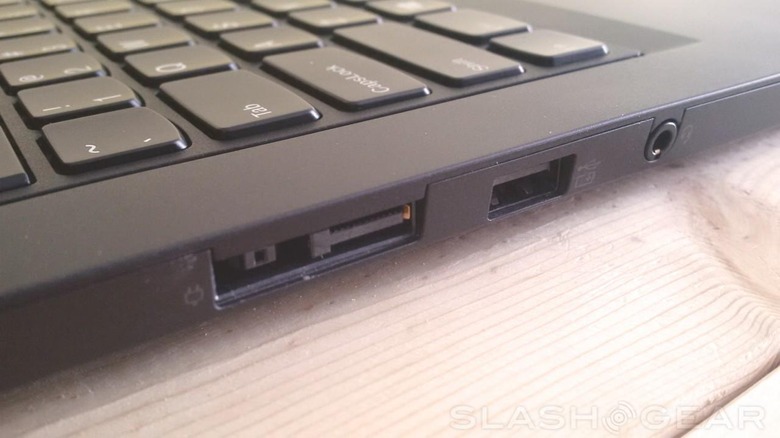 Rounding out the features is built-in dual digital array microphone alongside enhancements for VOIP usage. There's Dolby Home Theater complementing integrated stereo speakers, HDMI, a combo mic/headphones jack, dual USB 3.0 ports, a single USB 2.0 port, 4-in-1 card reader, and a (starting) weight of 4.2lbs. The entire unit has a thickness of 0.8-inches.
Software
If you've been a Lenovo faithful, you already know what to expect from the ThinkPad Yoga 14 — it comes pre-loaded with the software we've detailed in our previous ThinkPad reviews, such as Lenovo REACHit, Lenovo Settings for accessing common system settings in one app, Lenovo Ultranav, Lenovo Companion, and more. The software can be useful for some, but many users already have their preferred software for doing these different things, and the extra bloat is unwelcome. The good news is that you can get rid of any of this software if you don't want it, or you can ignore it altogether — it's not getting in the way of anything or making a nuisance of itself.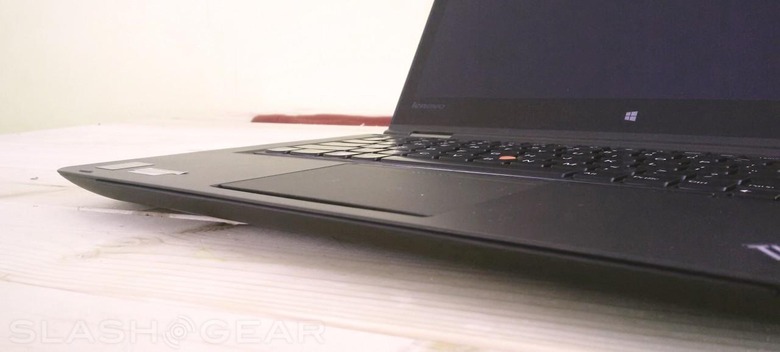 Performance
As far as performance goes, we again see benchmarks that fall in line with many of the other ThinkPads we've reviewed in recent times. Usage doesn't suffer in any way — it's as snappy and quick as you'd expect, and doesn't have any troubles meeting high demands or multi-tasking needs. There are some more powerful options available from Lenovo, however, for those who need it, such as the Y50 Touch we recently reviewed.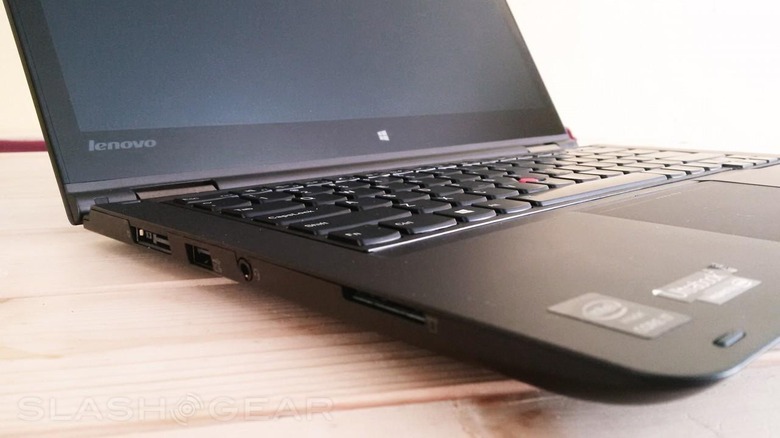 Conclusion
The Lenovo ThinkPad Yoga 14 is a nice laptop that is distinctly related to its sibling devices, sharing the same design cues and attributes while bringing along its own features and peculiarities. If you're not a fan of the all-black no-nonsense feel of the business-chic ThinkPads, you'd like find one of Lenovo's other Yoga devices more appealing.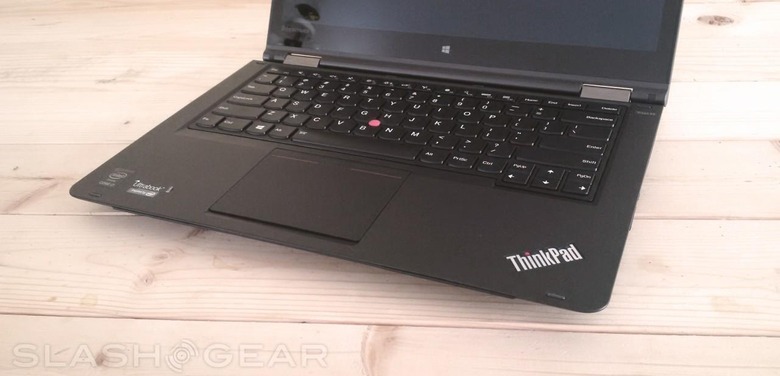 If, on the other hand, you've a special place in your heart for dense, durable machines with a simple design, the ThinkPad Yoga 14 will certainly fit the bill. It doesn't deviate in any big way from other newer ThinkPads (though, of course, that Yoga flexibility is always welcomed), but it does what it sets out to do very well, and you can't beat that.
Price starts at $1,099 USD.