Review: Lenovo ThinkPad Yoga 12 -- a flexible laptop with super VOIP features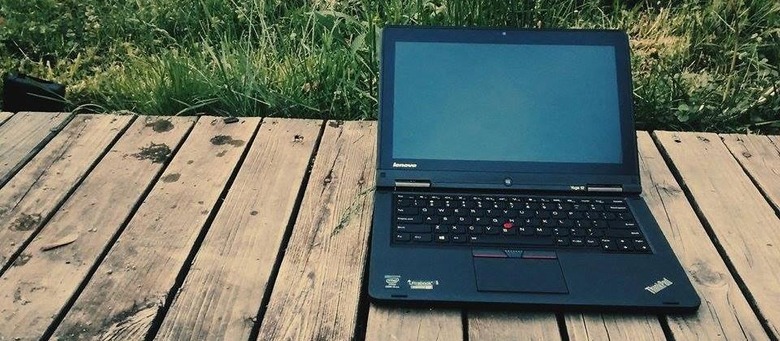 Lenovo has launched its ThinkPad Yoga 12 laptop, a 2-in-1 convertible offering that can be toggled between a regular laptop arrangement and other positions like tablet or a stand. This isn't unusual for Lenovo, but marks the latest entrant of the company's tried-and-true design that has won over many PC users. With this latest system, owners are given an integrated stylus alongside a light weight and thin body, powerful hardware, and more. Who would benefit from this latest Yoga notebook? Read our full review to find out!
Hardware
As with many past Yoga devices, the Lenovo Yoga 12 can be arranged in laptop, tablet, tent, and stand modes. Tt features a Lift 'n' Lock keyboard complementing a 12.5-inch Full HD 10-finger multi-touch display (400nits brightness). Digital Dolby Plus sound and enhanced VOIP hardware are a couple of its many features.
For those unfamiliar, with the Lift 'n' Lock keyboard the keys seem to sink down into the system for a flat surface when the laptop is in tent, tablet, and stand models. This makes it more comfortable to put on flat surfaces and to have in tablet mode. This is a mechanical movement, one the maker says is facilitated by the machine's larger chassis.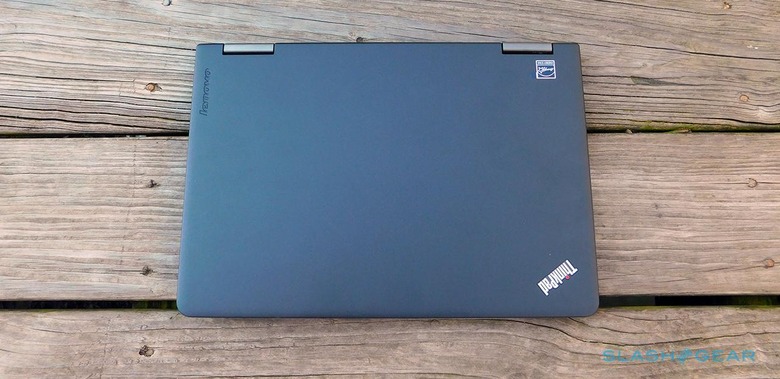 The laptop's frame is made from magnesium-alloy and the display features Gorilla Glass, the combination of which makes for an overall durable machine. The hinges, something that was a weak point on the earlier ThinkPads, are made from a "special zinc alloy" and, says Lenovo, are able to handle 30,000 open/close cycles.
As with many other Lenovo machines, the durable aspect of it transcends typical resistance to drops and jostles. The Yoga 12 is mil-spec tested, and is able to handle very high humidity (up to 98%), very low temps (down to -20C), high temps (up to 60C), repeated shocks, high dust levels, and high altitudes (up to 15,000ft), among other things.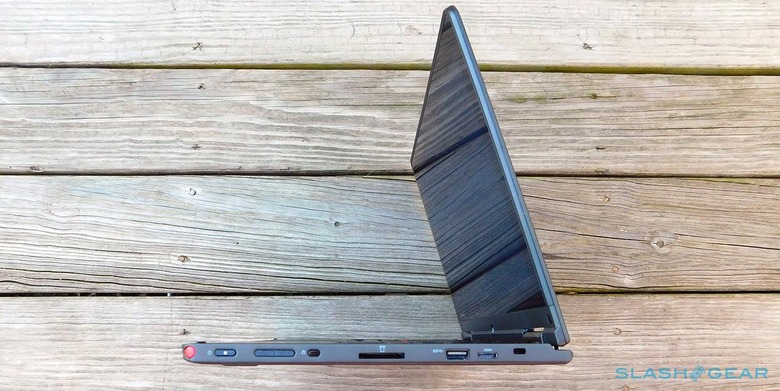 This model has the more traditional keyboard that Lenovo users tend to prefer — it has a large trackpad with a glass surface alongside a pair of physical buttons. There's also a track point in the keys for those holdouts who refuse to use a trackpad. The stylus, meanwhile, is a Tablet Digitizer Pen and allows for typical stylus activities: writing, drawing, and other such things.
As mentioned, the Yoga 12 is equipped with enhancements targeted specifically at VOIP uses — namely dual array microphones coupled with software to further facilitate use of those microphones and certain other things — audio optimization, keyboard noise suppression, background noise elimination, a multi-voice mode, and such.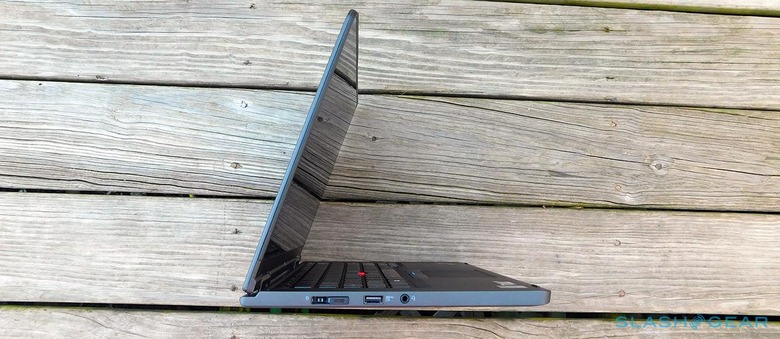 The laptop has a full array of ports, as well, which will appeal to those who find ultrabooks insufficient for their needs. There's mini HDMI for video output, a USB 3.0 port, a 4-in-1 card slot, volume and display lock, the stylus port (upper right corner), another USB 3.0 port on the other side, a combo headphones and microphone port, and the power slot.
As far as the hardware goes, that will depend on which configuration you get. There's an Intel Core i5-5300U option alongside Intel HD Graphics 5500, a 180GB SSD, up to 8GB of RAM, Intel Dual Band WiFi, Bluetooth 4.0, and an 8-cell 47Wh battery.
Software
The Yoga 12 comes with some of Lenovo's own software on it, including Lenovo Companion, Lenovo Settings, SHAREit, and other ThinkVantage Tools. There's also McAfee pre-installed, Dropbox, Dragon Assistant, TripAdvisor, The Weather Channel, and Wacom Pen. If you're not happy with bundled software, you may frown a bit at this model.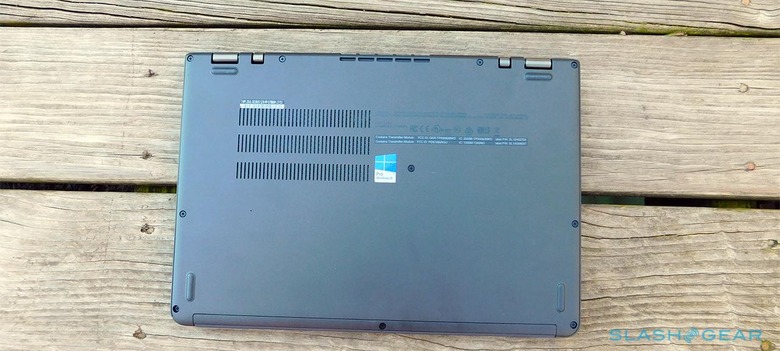 Performance
The performance is on par with the hardware, which is to say your exact experience with the system will depend on what hardware arrangement you choose. Functionally all works well, and there were no performance issues when doing all the common things one does on a laptop: listen to music, watch videos, surf the web, run office software, etc. Whether the laptop will accommodate your own software needs, again, depends on your situation.
Battery life is moderate — certainly not bad at about 7 hours, but also certainly not Lenovo's most long-lived run time. Those who consider battery life most important will do well to look at the maker's dual-battery systems, which are able to hold larger batteries (and hot-swappable, too).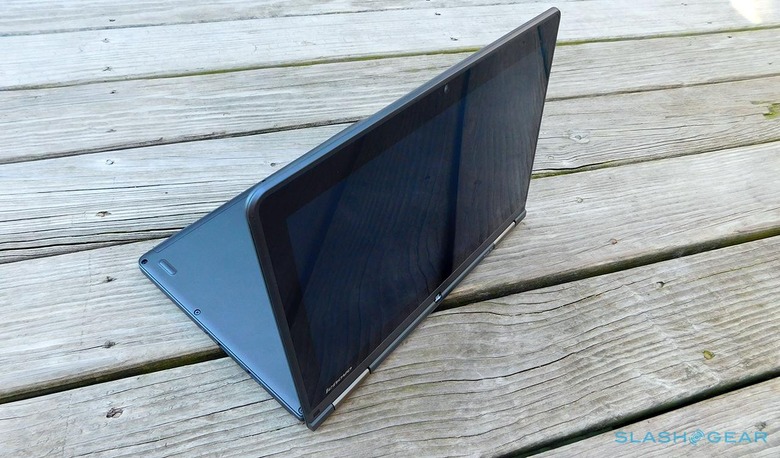 Conclusion
Those who haven't owned a Lenovo PC would find the Yoga 12 an option very much worth considering. Unlike some of the other models, this Yoga comes with its own stylus, allowing one to fully leverage the tablet-like position option. In addition, there are fairly powerful hardware options for those who with more demanding needs, and it is all coupled with a high-quality display and svelte but robust body.
Prices start at $890 USD.